Warriors' Near-Collapse in Game 4 Only Happened Because Steve Kerr Challenged a Moving Screen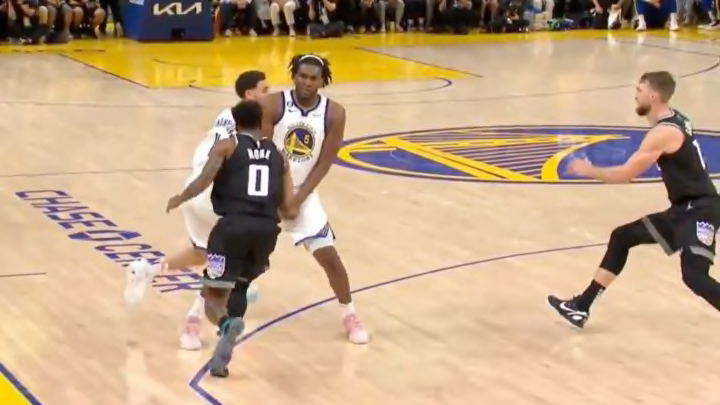 Warriors-Kings /
The Golden State Warriors barely held off the Sacramento Kings on Sunday afternoon, winning Game 4, 126-125. The end of the matchup was much closer than it should have been due to two massive errors by superstar Stephen Curry-- he called a timeout when the Warriors did not have one when they were up by five with 42 seconds left, then bricked a wide-open floater instead of letting the clock wind down to leave the Kings with 10 seconds to engineer a game-winning attempt. Sacramento was unable to take advantage and the Warriors still won, but it was a pair of very uncharacteristic mistakes from the most successful team of this generation.
While Curry deserves to shoulder some of the blame he does not deserve all of it. Because he should not have been in that position to begin with. Golden State would have had one timeout left if not for the biggest error of the evening, courtesy of Steve Kerr and/or the team's replay assistant.
With two minutes to go and the Warriors up by three, Kevon Looney was called for a moving screen on a Klay Thompson handoff. Officials make terrible calls in the postseason all the time but for them to call a moving screen in playoff crunch time means it had to have been super obvious. And this one was! Looney was clearly moving and leaned into Malik Monk, giving the referee a double-whammy of an infraction and leaving him no choice but to blow the whistle. But the Warriors thought it would be smart to challenge the call anyway despite having only one timeout in a one-possession game with a good amount of time still left on the clock.
Challenging that call is, objectively, not a smart decision. If they won the challenge, what happens? They get to keep possession and get a side-out play with 14 seconds left on the shot clock? Looney avoids picking up his fifth foul? The payoff pales in comparison to the cost of their last timeout in that close of a game.
There is simply no way the Kings should've come back down by five with 42 seconds left against the defending champion Warriors. Yet they almost did thanks to Kerr's dumb decision. Sometimes even the best teams are lucky instead of good.