Roundup: Warriors Roll; Emoni Bates Transferring; Roy Kent Says F-Word On Sesame Street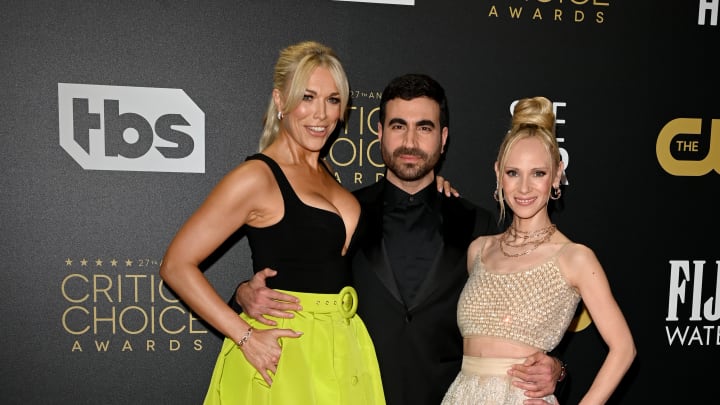 27th Annual Critics Choice Awards London Event - Arrivals / Kate Green/GettyImages
Liz Sheridan, who played Jerry's mom on Seinfeld, died ... portable nuclear device missing in Pennsylvania so, uh, be on the look out for that ... there was a shooting in South Carolina ... Florida rejecting math textbooks over CRT ... Shania Twain performed with Harry Styles at Coachella ... 'Secrets of Dumbledore' is not having a huge opening weekend ... Tucker Carlson taking on the testosterone crisis .... Kardashians announce great Easter ... Art Rupe passed away at 104 ... NBC4 anchor Wendy Rieger died ...
The Warriors rolled in game 1 against the Nuggets. Steph came off the bench and Jordan Poole scored 30. [Bleacher Report]

The Carolina Panthers have the inside track on landing Baker Mayfield. [Cleveland.com]

Here's Brett Goldstein talking about the F-word on Sesame Street. [EW]

Nick Castellanos was going to sign with the Marlins until Derek Jeter left. [CBS Sports]

Tyrese Maxey dropped 38 in the 76ers win on Saturday. [Philly Voice]

Joel Embiid isn't worried about James Harden's struggles. [SI]

Emoni Bates has entered the transfer portal. [ESPN]

Terrell Owens scored a touchdown in the fan controlled football league. [NBC Philadelphia]
Can't imagine what kind of on-air incident took place in the broadcast booth to set up this Nick Castellanos moment.
Steve Seagal hosted SNL on April 20, 1991 and NBC is refusing my challenge to re-air the episode in primetime in 2022.
Still working on the form tackling in the USFL.
Kids helping kids.
Cool moment between Karl-Anthony Towns and Ja Morant's fathers had a moment yesterday. Could be quite a series after the Wolves stole game 1 in Memphis.