Rudy Gobert Says Draymond Green Acted Like a Clown, Probably Got Thrown Out on Purpose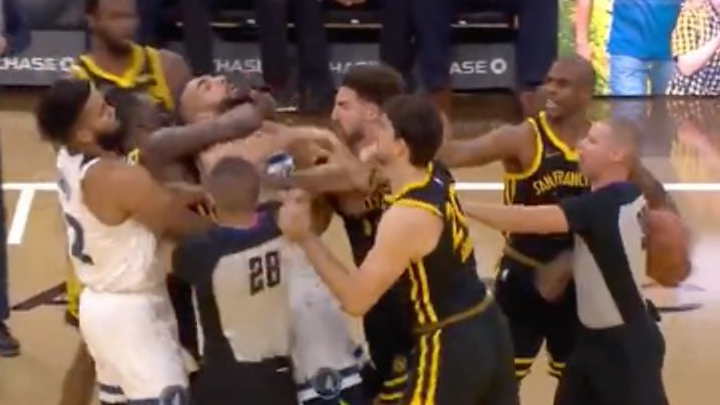 The Golden State Warriors and Minnesota Timberwolves got into a legitimate donnybrook mere moments into last night's completely made-up In-Season Tournament game. At one point during the melee, Draymond Green worked on his headlock form without the express written consent of Rudy Gobert. And not a single voice of reason could tamp things down by pointing out that everyone should stop fighting or risk ruining the sanctity of the venerable In-Season Tournament — a thing all kids grow up watching.
Klay Thompson, Jaden McDaniels and Green were ejected for their role in the fracas. Gobert was allowed to keep playing basketball even though the Warriors and Steve Kerr viewed him more as an instigator than a peacemaker.
The T-Wolves went on to win with a nice fourth quarter, which will have a major impact on the tournament in a way I refuse to look up. After the final whistle, reporters got to interview those involved in the rabble-rousing and Gobert had an interesting theory as to what happened.
That Green got bounced on purpose.
"I went to try to disconnect the situation between Jaden and Klay, and then I just felt someone grabbing me," Gobert said after the game. "My first thought was, I'm not going to fight, I need to be in this game to help my team. So I showed the ref I had my hands up and I just waited until the situation was over. Nothing more than that. It wasn't really enough of a choke for me to sleep. I just kept my hands up and waited until it was over.

"It's kind of funny because before the game I was telling myself Steph is not playing, so I know Draymond is going to try to get ejected. Every time Steph doesn't play, he doesn't want to play without his guy Steph, so he's doing anything to get ejected. It's all good.

"Just clown behavior. I'm proud of myself for being the bigger man, again and again. It doesn't even deserve me putting my hands on him. My team needed me tonight, so I wanted to keep my cool and not make the situation worse. I do hope the league is going to do what needs to be done, because that's just clown behavior. There's not much to say, it's clown behavior."
Not trying to read too deeply into Gobert's commentary here but it sounds like he thinks what Green did was clown behavior. Thing is, no one would blame Green for not wanting to play without Steph and not wanting to be on that ridiculously painted court. And poor Gobert is simply not a sympathetic party here.
Minnesota won the game but Golden State won the fight and the war of worlds. The NBA in November. Catch the excitement!