Shaquille O'Neal Goes Full Draymond Green, Puts Charles Barkley in a Headlock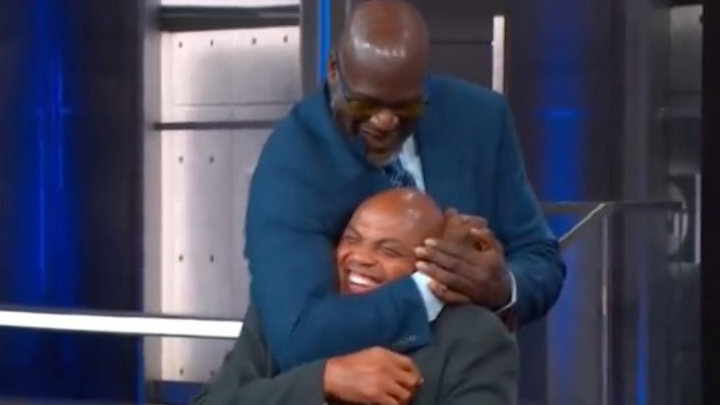 Draymond Green provided the seminal moment of the NBA's In-Season Tournament by putting Rudy Gobert in a headlock as the Golden State Warriors and Minnesota Timberwolves resolved their differences through physical battle last night. Gobert suggested that Green, who has been known to resort to physicality before, got himself ejected on purpose because he is lost and cold without the sweet-shooting security blanket of Stephen Curry. In short, there was a lot going on.
Inside the NBA was there to discuss it all while having as much fun as possible. Which included Shaquille O'Neal doing a bit where he put Charles Barkley in a headlock.
Everyone on set of this show knows they need to have their head on a swivel at all times because it's all about getting the laugh wherever it can be found. There's a difference between insisting one has fun at work and actually having a heck of a lot of fun. A few months ago someone involved in Inside the NBA told me that O'Neal always plays this stuff close to the vest so what he's doing is essentially improv and elicits an authentic reaction. And it is funnier that way.
One quibble, though. They do seem to skirt from re-enactment theater whenever Green bops someone in the groin with intent. Could be a coincidence but we know at least they'll have a chance to rectify the next time it happens.