Latest Mlb Leads
Do Not, For Any Reason, Give Vladimir Guerrero Jr. the MVP Instead of Shohei Ohtani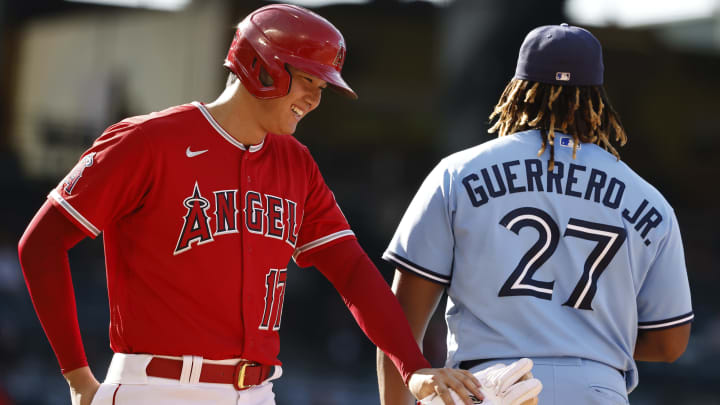 Michael Owens/Getty Images
As a public service announcement, we'd like to recommend not looking directly into the light emitted from the Vladimir Guerrero Jr. Should Win AL MVP takes because those who do run the risk of permanent blindness. So white-hot and bright is the heat from that particular celestial body. It's showing up more and more as the Blue Jays slugger continues to slug his team closer to the playoffs and Ohtani drifts back to reality ever so slightly. It manifested on MLB Network's High Heat today as Chris "Mad Dog" Russo picked Tom Verducci's brain on the topic.
Verducci says "there is a conversation" that Guerrero Jr. deserves it over Ohtani, but that the Angels' two-way player will still win the award. And that's fine, but what is the actual real-world value or meaning of something being a conversation? Anything can be a conversation if it's on a sports-talk rundown and people discuss it. Ohtani once seemed destined for a unanimous win and that's no longer true. But there's a big difference between that and someone going from an unprecedented year of dominance on both the mound and batter's box to not good enough to win the league's MVP in the span of a month.
This is a Crazy Pills situation.
Look, there's a slight chance Guerrero wins the Triple Crown and a greater chance Toronto makes the playoffs. It'd be great if he did. Are voters really going to base their votes on him accomplishing the feat at the expense of Ohtani while ignoring the second-place finisher in homers also pitched brilliantly in 21 starts? Worse, are they really going to give Guerrero an MVP over Babe Ruth 2.0 just because he came close to winning a Triple Crown?
All of this feels ridiculous. Like the byproduct of overthinking. Like reverse-engineering a debate and then losing the plot completely. I want everyone out there to be extremely careful consuming or, more seriously, adopting this take. Increasingly worrying.