New Jersey High School Football Referee Moves Ball and Chains to Give Team a Crucial First Down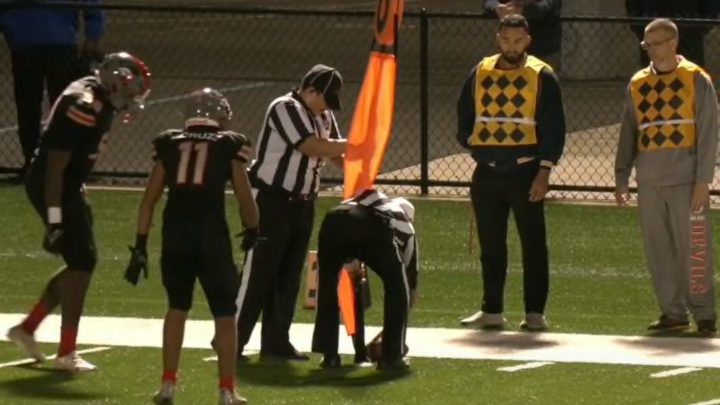 Vineland High School Fighting Clan and the Eastern High School Vikings faced off in a New Jersey high school football game on Thursday night. Vineland won the game, 20-19, despite one of the craziest things you will ever see an official do. After the ball was spotted short on fourth down, the referee moved both the ball and chain to give Eastern a first down in the fourth quarter. You can see it in this video.
In the full video which is available on YouTube, you can see the ball is spotted on the 12-yard line. The referee moves the ball forward and the pole backwards and calls it a first down. He then runs out to spot the ball.
Eastern scored the go-ahead touchdown three plays later. Luckily, justice was served when Vineland scored the game-winning touchdown a few minutes later. Who knows what the motive was for this referee, but at the very least there's no way he can work a game involving either of these teams ever again.
Update: The NJSIAA released the following statement on Saturday:
"NJSIAA has reviewed the video of the Vineland versus Eastern state playoff football game and, in agreement with the New Jersey Football Officials Association, has determined that the entire officiating crew -- pending a hearing next week with the South Chapter of the New Jersey Football Officials Association -- will not be assigned future post-season games."