Vin Scully and the First Home Runs You Remember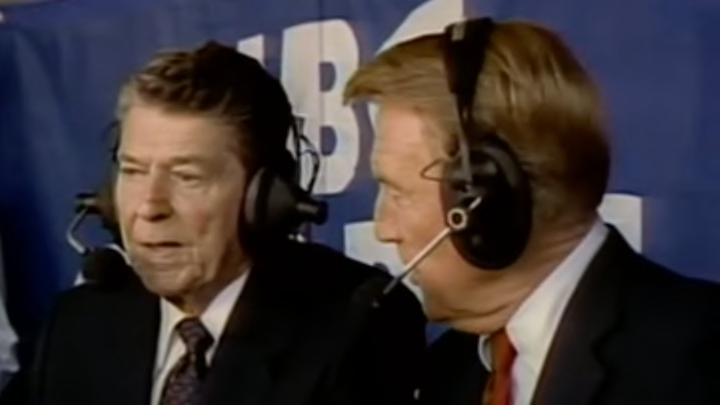 Vin Scully, one of the finest baseball announcers to ever do it, has passed away at the age of 94. He leaves behind an enormous legacy and an enormous hole as he represented the last remaining icons of radio play-by-play. No medium in sports is as intimate as baseball without supporting pictures and these radio voices were passports to an entirely different world, transportive figures who served as tour guides of the ultimate escape: into one's imagination. Remembrances are appropriately ubiquitous this morning as everyone attempts to put into words what Scully meant to them, all falling short of the poetic standard the Hall of Famer established, which may remain unchallenged in the coming decades.
The first baseball game I ever remember watching was called by Scully and to this day remains one of the most exciting. His steady narration of Kirk Gibson limping off the bench to shock Dennis Eckersley and the world at large with a walk-off homer in Game 1 of the 1988 World Series showcased all that made him great. The world-building. The scene-setting. The ability to rise to the moment and let it breathe. To lend effortless gravitas. You'll see it listed among the top of any list today celebrating his most memorable moments.
But it's something that happened the next summer — another experience seared into my impressional mind — that I want to re-live. Bo Jackson was at his apex. A football star given the unusual job of leading off for the American League in the All-Star Game. We stopped playing Tecmo Baseball in my neighbor's basement long enough to see if he'd do something special. And of course, Jackson did, hitting a moonshot homer off Rick Reuschel.
Scully was in the booth next to Ronald Reagan, who was looking for things to fill his time after serving two terms as U.S. president. Scully, as only he could, set up his partner brilliantly and broke in as the blast flew into tarped-off seats. It was slow and steady, never rushed, and always in control. It felt like something big had just happened and the exact right person was in the driver's seat to hammer that reality home.
There he was, seated next to one of the most powerful people in the world with sports' brightest star at the plate, and he was holding his own. Without breaking a sweat. My young brain somehow made the connection that the person calling the All-Star Game must have been an All-Star in his own right, in his own field. He felt every bit as important and essential to the process as Jackson and Reagan and the confidence to inhabit the moment made an impression.
Scully was baseball. He was part of the sports' magnificent story and he fit in perfectly without trying to stand out or draw attention away from the field. To hear him once a year, or once every few years, was enough. I was not lucky enough to be privy to much of his work yet treated it like an extra-special dessert.
The world has changed dramatically and there will never be another Scully. But I am grateful to have had him narrate some of my first and most formative memories. Thinking about all the millions who were also able to share this gift is humbling.
So often in life we're unable to recognize greatness in the moment. But with Scully it was impossible not to.