Kirk Cousins Got Destroyed Trying to Prevent 99-Yard Pick-Six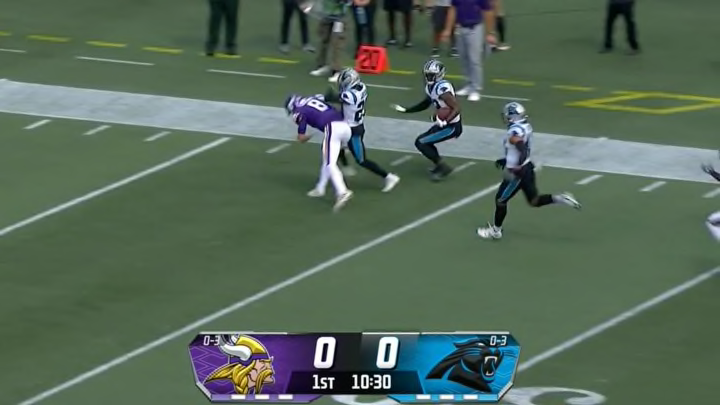 On Sunday the Minnesota Vikings took on the Carolina Panthers at Bank of America Stadium in Charlotte. The Panthers appeared to be overmatched headed into the day; the Vikings are 0-3 but have been extremely prolific on offense despite losing. Bryce Young has not managed to lead Carolina to many points and missed last week's start with an injury. And on the opening drive of the game, everything was shaking out the way we thought-- Kirk Cousins quickly marched the offense down the field and faced third-and-goal from the Panthers' five-yard line.
Then disaster struck for Minnesota. Cousins threw an interception at the one-yard line. Sam Franklin undercut an out-route intended for K.J. Osborn and was off to the races. Cousins heroically attempted to prevent the touchdown and did a better job than most quarterbacks do in that situation. As in, he got generally in the way. Unfortunately he also got obliterated by Franklin's lead blocker and he made no impact. Franklin returned the pick for the TD.
Again, great effort by Cousins. Most quarterbacks, and especially Mac Jones, would have accepted their fate by the time the defender reached the 50-yard line. But he tried. This is his reward for that effort.
Another tough start for Cousins in the red zone.