Video: Sean O'Malley Knocks Out Aljamain Sterling at UFC 292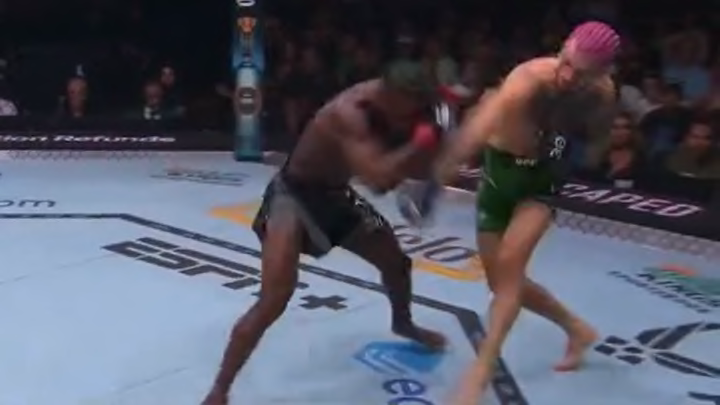 There is a new UFC bantamweight champion. Sean O'Malley scored a TKO win over Aljamain Sterling Saturday night at UFC 292, with the finish coming only 51 seconds in to the second round.
O'Malley dropped Sterling with a big right hand, then finished him off with a volley of punches as the champ attempted to get up. It was a brutal sequence that followed a largely lifeless first round.
Check it out:
Now in slow motion:
If you look again, Sterling reached to hit O'Malley and opened himself up.
Here's the celebration:
Sterling was a big favorite heading into the match after nine-straight wins, including three successful title defenses over some big-time fighters. He had beaten Petr Yan twice, then T.J. Dillashaw, followed by Henry Cejudo. The loss dropped him to 23-4 and it's likely he'll be moving up to featherweight.
O'Malley entered the fight as the No. 2 ranked bantamweight in in UFC's ratings and pulled off a pretty huge upset. He's now won five of his last six fights, with the only blemish a no contest due to an accidental eye poke. He's won four of his last six fights by stoppage due to punches, and this win improves him to 17-1, and 8-1 in the UFC.
O'Malley has the makings of a future MMA star given his personality and ability to finish off opponents.
Here's what he had to say after the fight: