We're In a New Era of Extended Standing Ovations. Please Clap.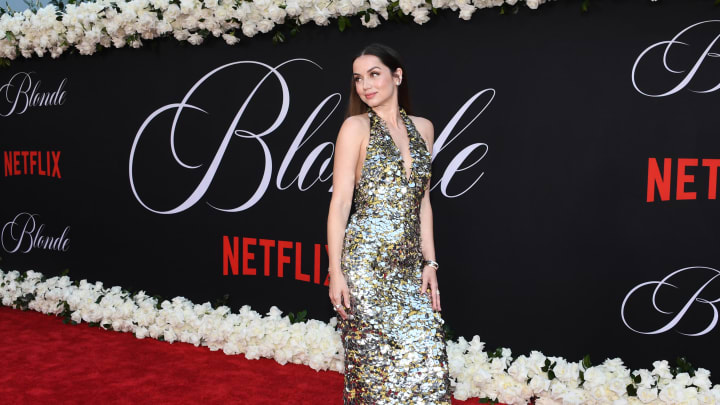 Los Angeles Premiere Of Netflix's New Film "Blonde" / Jon Kopaloff/GettyImages
Standing ovations for movies at film festivals is nothing new, but with the current instant-coffee news cycle that demands content 24 hours a day, every ovation is worth a post. So if you're going to a movie anytime soon, please remember to clap. Oh, and make sure to start a stopwatch before you put your hands together because we need to know how long people are clapping.
The celebs are absolutely dominating the ovation game this year. Don't Worry Darling, a movie about darlings not worrying, starring a bunch of darlings who have done a lot of worrying, which has widely been panned by critics, received a four-minute standing ovation at the Venice Film Festival. That appears to be the baseline both for the quality of film that deserves an ovation and the length of which people will take note of. Or maybe it was just an excuse to point out how awkward the entire damn cast is for... reasons.
As impressive as that ovation was, it was nothing compared to the six-minute ovation that announced loudly to the world that Brendan Fraser was back. Fraser was seen overcome with emotion during the reaction to The Whale in Venice.
Of course, standing ovations aren't just for great comeback stories. Timothee Chalamet is as young and hot as you can get without being sucked into the Don't Worry Darling universe and his new movie Bones & All got received an eight-and-a-half minute ovation in Venice according to Collider. Or maybe it was full 10 minutes as Deadline reported.
There was no question that Hugh Jackman's new film, The Son, got a 10-minute standing ovation at Venice. Surely, that's the longest anyone can stand and clap... Right???
Nope! Colin Farrell (specifically, I guess?) received a 13-minute standing ovation for The Banshees of Inisherin at Venice. Do Italians just hate sitting for long periods of time? Is this how they get the blood flowing after sitting through two-hour movie after two-hour movie?
Maybe. Because that's how you would explain the 14-minute standing ovation that Ana De Armas got for her NC-17 Marilyn Monroe Netflix movie, Blonde. At least it was 14-minutes according to CNN. Deadline had the ovation at 11-minutes.
However long it was... it was not as long as the 22-minutes that Pan's Labyrinth received at Cannes in 2006. Sixteen years later that remains the benchmark for insane standing ovations. We may never see it again, which makes sense because can you imagine clapping for one thing for twenty minutes? I'm still having trouble picturing myself clapping for something for ten minutes. These movies must be incredible!
Please clap.