Latest NFL Leads
Urban Meyer Will Need a Good GM Partner in Jacksonville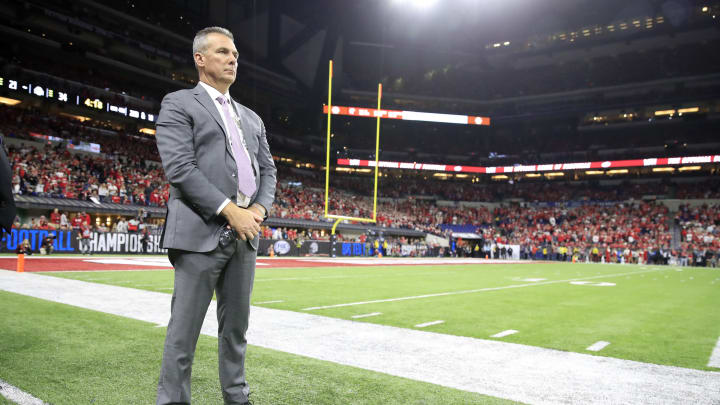 Urban Meyer / Andy Lyons/Getty Images
Thursday morning brought news that the sight of Urban Meyer on an NFL sideline is now one we will have to get used to. As the country blinked the sleep out of its eyes, reports rolled in that Meyer and the Jacksonville Jaguars are finalizing a dealt that will make him the next head coach of the organization.
Meyer will be the latest college coach to make the leap to the pros, and certainly the most notable one to do so in recent history. A coach with this kind of resume hasn't tried his hand in the NFL since Nick Saban's failed experiment with the Miami Dolphins. It's a big risk for Meyer as far as his legacy goes, but he will surely be well-compensated and Jacksonville is as good of a Square One to start at as any as holders of the No. 1 overall pick in this year's draft.
In pursuing Meyer, the Jaguars have opted to go down the path of hiring a coach and then collaborating with him on who to hire as general manager. It is not a big stretch to say that the GM hire will be equally as important as the head coach hire, even with a big brand name like Meyer.
The franchise won't have any arguments about who to take with that top pick, obviously. Trevor Lawrence is the most coveted QB prospect to come around in a decade and will be in a Jaguars uniform come September 2021 (unless they get weird and offer up the top spot for Deshaun Watson). But Jacksonville has many other decisions to make that will set the foundation for Meyer's tenure as head coach and largely determine how Lawrence's early career will go.
The Jags have some pretty good pieces to work with already. James Robinson was a revelation as an undrafted rookie running back this year, D.J. Chark and Lavishka Shenault are good playmakers for Lawrence to throw to, and Cam Robinson was rock-solid as a blindside protector in 2020. On the other side of the ball, Josh Allen looks like a cornerstone edgerusher to build around.
This is still, however, a team that went 1-15 last year. That's why a great personnel man will be needed to help Meyer usher in a new era of Jags football. Whomever it will be will have the resources to overhaul this team. Along with their own draft picks, they own the Rams' first and fourth-round picks, the Vikings' second-round pick, and the Browns' fifth-round pick. The team's firesale of its 2017 AFC Championship appearance is paying off this year. On top of all of that, Jacksonville is expected to have $75 million in cap space this offseason.
They will need every bit of help to give Lawrence a fighting chance in his first season as starter and Meyer in his first season as head coach. A more rounded-out offensive line, a pass-rushing partner for Allen, and any help at all in the secondary will be top priorities. This offseason presents their best chance to do all that. And they will be sunk for years if they blow it. The Jags can outbid anybody this offseason, but if those signings don't pan out, that cap space is gone. Trading talents like Jalen Ramsey and Yannick Ngakoue will be for naught if they don't hit on the picks they received in return.
Hiring Meyer was step one. Jacksonville has a famous and successful coach to tutor their franchise quarterback. Step two is equally as important. Hiring a good personnel man to capitalize on the opportunities the 2021 offseason will present is imperative. Because if they fumble it, the Meyer-Lawrence experiment may not last very long at all.