Umpire Phil Cuzzi Got Into it With the Astros Dugout and It Was Great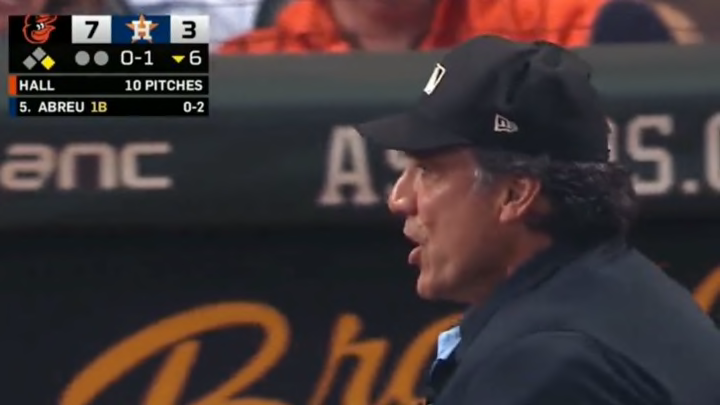 The Houston Astros find themselves in an honest-to-goodness three-way chase for the American League West crown and with time ticking away, every single game is of paramount importance. They failed to get the job done last night against the Baltimore Orioles, allowing both the Texas Rangers and Baltimore Orioles to remain just a half-game back. Tensions were high and frustration boiled over in the direction of home plate umpire Phil Cuzzi.
Cuzzi, a veteran who can dish it out as well as he can receive it, reached his breaking point in the bottom of the sixth when Astros hitting coach Alex Cintrón said the magic words and got sent packing. With style.
"I'm not going to listen to you," Cuzzi said. "I'm not going to listen to you. F--k me? F--k you."
Just guys being dudes running dialog from a David Chase script.
Now, a lot of people wake up in the morning excited to rip officials but for every 20 of them there is one me who will tepidly stand up for the boys in blue. Or stripes. A manager like Dusty Baker is going to get way more lattitude to opine than the hitting coach. Any hitting coach. Sorry, but if you're a hitting coach you're going to get tossed — especially after telling the person behind the plate to pleasure themself. We're trying to live in a society here.