Umpire Ejected From Independent League Game After Hitting Player
That's baseball, baby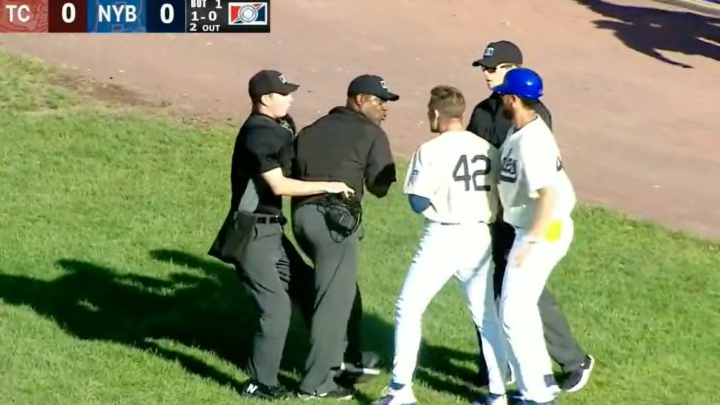 Independent League Baseball /
Weird stuff tends to happen in the lower levels of professional baseball, and this past Sunday was no different. During a contest between the Tri-City ValleyCats and the New York Boulders yesterday, an umpire got ejected in the first inning.
You read that correctly, the ump got tossed. How would this happen, you ask? Well, this umpire got into a very heated confrontation with one of the players on the field. He turned around to walk away but the player followed and kept yelling. The umpire then turned around and struck the player in the torso, nearly leading to a brawl between the two parties. The other umpires quickly intervened and the camera caught the offending ump walking to the center field exit. It was a wild scene.
The whole thing was apparently sparked off because ValleyCats manager Pete Incaviglia (yes, that Pete Incaviglia) thought the Boulders were stealing signs using a camera in center field. He made his concerns known to the umpire, who went over to the Boulders' dugout to talk to them about it, leading to the altercation with the player and eventually an ejection.
The fireworks continued after the game, which the Boulders won, 2-1. Boulders president Shawn Reilly put Incaviglia on blast while speaking to the Times-Union:
"Your manager in Tri-City has been accusing us of stealing signs for three days, which is offensive and embarrassing at the same time," Reilly said. "The umpire went over based on Pete and he threw (Nathans) out and things got out of control. It's unfortunate. It was not a good moment for the league. It was an embarrassing moment and it should never have happened."

"It really didn't have to happen, and it all boils from these ridiculous allegations of pitch-cheating that Pete does every year at this time of year," Reilly said. "And I think he's an embarrassment to the Frontier League and I think Tri-City is a first-class organization. But I don't have much patience for that behavior. He gets the umpires riled up that we're cheating. We're not. I find it incredibly offensive to accuse my organization of cheating. He can't win on the field so he sorts to the pitch-stealing (accusation). Well, then change your signs. He's better than that."
Riley did not stop there as he questioned Incaviglia's line of logic in making that accusation at all.
Reilly said he couldn't understand how the Boulders could use the centerfield camera to steal signs and relay them to the hitter.

"I don't know, because there's a 30-second delay on the camera, and there's a 15-second pitch clock," Reilly said. "I can't really figure it out."
Just tremendous stuff all-around here. Nothing better than smalltown baseball, am I right, folks?