Tyrod Taylor Completed a Pass to Himself, Got Hurt on Ensuing Tackle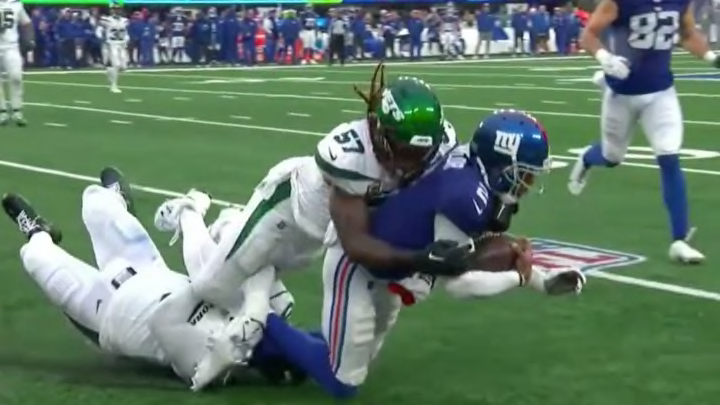 Tyrod Taylor left Week 8's New York Giants - New York Jets game after suffering an injury. Taylor scrambled to the right and lost the ball while trying to throw it away or pump fake. The ball popped into the air and Taylor caught it and kept running. Then he was chased down by Quinton Jefferson and C.J. Mosley jumped on top of Taylor and landed on him with his full weight.
Taylor remained on the ground holding either his hand or chest before he ran off the field. On the sideline he went back down to his knees. Eventually, he got up and headed to the locker room.
With Daniel Jones out with a neck injury, Taylor was replaced by Tommy DeVito, an undrafted rookie out of Illinois, who also spent five seasons at Syracuse where he appeared in a total of 26 games. Taylor had not returned by the Giants next posession, which probably means he's out. We will update when there's a new report.
UPDATE: Taylor is out for the game with a rib injury. He has been taken to the hospital.