Tyreek Hill Challenges Marquise Goodwin to a Race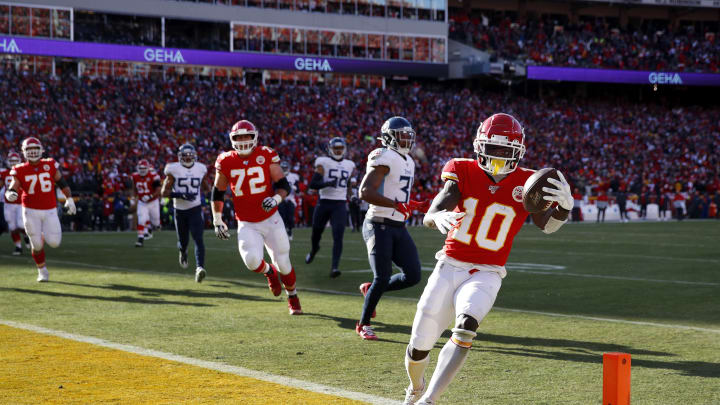 Tyreek Hill / Joe Robbins/Getty Images
There are a lot of really fast players in the NFL. But there's speed, and then there's speed. Julio Jones is fast, but he isn't DeSean Jackson fast. It seems a small difference, but when we're talking about fast versus really fast, the gap is larger than one might think.
Tyreek Hill has made a very good case over the last few seasons to be considered the fastest receiver in the league. It usually only takes watching a quarter or so of Chiefs football before you'll see Hill streaking behind the defense with a Patrick Mahomes pass arriving right on time. Marquise Goodwin is probably one of the few receivers who could make an equally strong case to be the swiftest wideout in the land.
Hill decided he didn't want to leave this to hypotheticals anymore and challenged Goodwin to a race during an appearance on ESPN today.
Hill is definitely a better wide receiver, but I wouldn't be so confident about blowing Goodwin out of the water here. For those not in the know, Goodwin was an Olympic long jumper and was part of Team USA at the 2012 games. He was also a four-time All-American in track and field at Texas. In 2016, he ran a 60-yard dash in 6.68 seconds. He ran the 40-yard dash in 4.27 seconds ahead of the 2013 NFL Draft. He may not be as prolific a receiver as Hill, but that man is fast.
For contrast, Hill ran a 4.29 40-yard dash in 2016 and was an excellent track-and-field runner in high school, winning the 100 and 200-meter dashes at the Georgia state meet in 2012. Track fast is much different than football fast, and Hill has experience in both, just like Goodwin. But only one of them went to the Olympics, even if that was for long jumping, where speed isn't the primary factor.
I'd watch this on PPV, I won't lie. It would be nearly as good as Chad Ochocinco racing a horse. Remember that whole thing?