Twitter Has Discovered Texas A&M's Yell Practice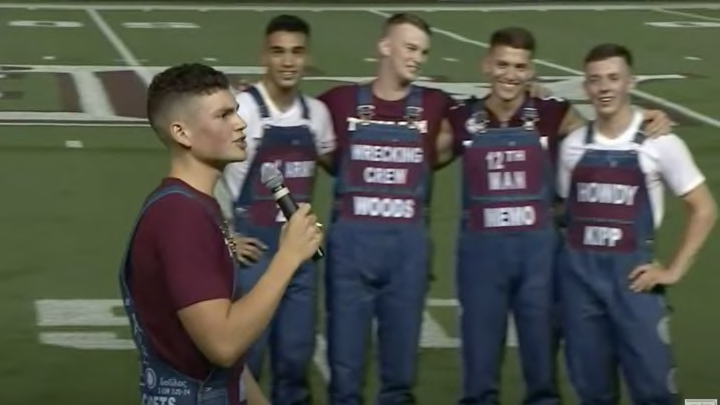 Texas A&M Yell Leaders /
College football is about 75 percent dumb traditions. One of those dumb traditions seems to have surfaced to general sports Twitter on Wednesday as someone posted video of a Texas A&M student in overalls pacing back and forth while patting himself on the arm while doing bad standup.
You're probably thinking, Man, what the hell is that supposed to be? Well, it's called Midnight Yell. That fella in the overalls with the weird skip in his step is a Yell Leader. They attend all the Aggies games and lead cheers, which they call yells in them there parts. They usually wear white coveralls, as you can see in this tweet.
The tradition apparently dates back to the early 1900s when A&M was an all-male school and the Aggies were getting blown out so badly that the guests from Texas Women's University were getting ready to leave early. So the upperclassmen made the freshmen entertain them, which they did by raiding a janitor's closet for the fits and starting some "yells." This is on the school's official website.
Here's more via TAMU.edu:
Yell Practice became a regular after-dinner ritual in 1913, but the first Midnight Yell wasn't held until 1931. It began when a group of cadets was gathered in Peanut Owens' dorm room in Puryear Hall, when someone suggested that all of the freshmen should meet on the steps of the YMCA Building at midnight to practice yells. The freshman asked the two senior yell leaders at the time to attend. The two said they couldn't authorize the event, but they just might happen to show up. Word about the midnight gathering quickly spread, and that evening, Midnight Yell was born. When Owens became a yell leader, it became a tradition to walk back and forth. This was because Owens' feet were too big to fit on the steps of the YMCA Building, the original location of Midnight Yell, so he paced in order to keep his balance — and the other yell leaders joined in.
The kid's feet were too big for stairs. That is some Bill Brasky shit right there. And it explains the pacing back and forth from the video that first captured everyone's attention yesterday. Here's the full video that clip came from. This is from the night before the MIssissippi State game. A game that A&M went on to lose to the unranked Bulldogs despite how much yelling they practiced.
Now, Texas A&M fans and alumni, please do not e-mail me. I know you think this is cool and important and you met your wife at Yell Practice. I know each one of the Yell Leaders could beat me up if they weren't all such Southern gentlemen. I'm just here writing an explainer on your weird tradition. Every school has weird traditions. They're all equally dumb, but very special to that school's students. If this article has upset you, walk back and forth to blow off some steam.