Tua Tagovailoa Dramatically Underthrows Tyreek Hill in Miami Dolphins Hype Video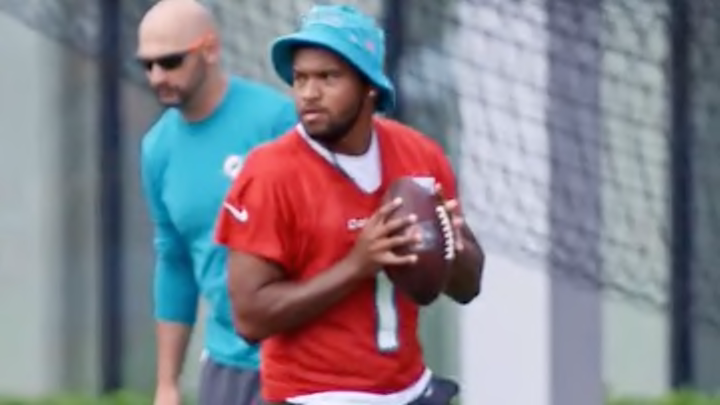 Tua Tagovailoa /
The 2022 NFL season is a very important one for Tua Tagovailoa. The Heisman Trophy winner has been under the bright spotlight of heavy scrutiny in his first three professional seasons. The biggest critique of Tagovailoa's performance so far is his weak arm, incapable of hitting receivers deep down the field or zinging passes into tight windows. But some slack must be cut for the QB given the weak roster around him over that same timespan.
That excuse is out the window this year after the Miami Dolphins gave up a haul to acquire Tyreek Hill. His game-breaking speed makes the game easy for any quarterback regardless of skill level and it'll be on Tagovailoa to take advantage of that. The Dolphins posted a hype video of sorts on Tuesday evening, showcasing the Tua-to-Tyreek connection they hope will define the next few seasons. The problem with this hype video is that it pretty clearly shows Tagovailoa underthrowing Hill.
Important to note that zero takeaways should be had from this. It's not even a training camp video. It's a voluntary workout video. All non-rookies are running at maybe 10 percent speed during voluntary workout season. This is not a definitive referendum on Tagovailoa's ability to hit Hill in stride in 2022 and beyond.
With all that said, it is certainly a little funny that the Dolphins posted this dramatic video with slow-motion effects that clearly ends with an underthrown ball. It emphasizes the main critique of the team's blockbuster trade to land Hill-- that Tagovailoa can't hit him when he's open 50 yards down the field. And in the very first video of the two completing a pass, it's an underthrow. It's team-sponsored, too!
Tagovailoa will have his time to prove the haters wrong. The Dolphins aren't really helping him get off to a hot start there.