Tua Tagovailoa's Helmet Slammed Into Turf on Late Hit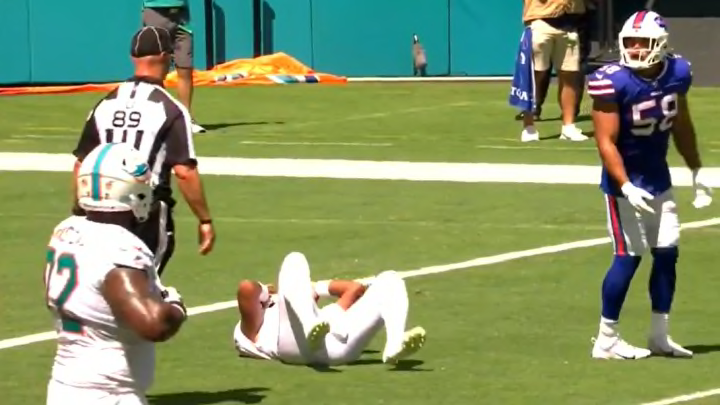 Just as Tua Tagovailoa seemed to finally be putting it all together in the NFL he got knocked out of a game. Tagovailoa took a late hit against the Buffalo Bills on Sunday, came up wobbly and looked completely out of it.
Check out the video:
You can see the back of his head slam hard on the turf.
Another look:
Matt Milano was flagged for a late hit on the Miami Dolphins quarterback and it was obviously a deserved penalty. It doesn't look like Tua is going to return to this one. The Dolphins had played well, staying tight with the Bills as it's tied 14-14 late in the first half. That comes after a 2-0 start for Miami. Things were rolling until this injury.
Tagovailoa was 8-of-10 for 76 yards and a touchdown in the first half. Here's hoping the 24-year-old isn't out for long.
UPDATE: Somehow, Tagovailoa returned to the game in the second half.