The Troy Aikman-Michael Silver Feud Is Just Getting Good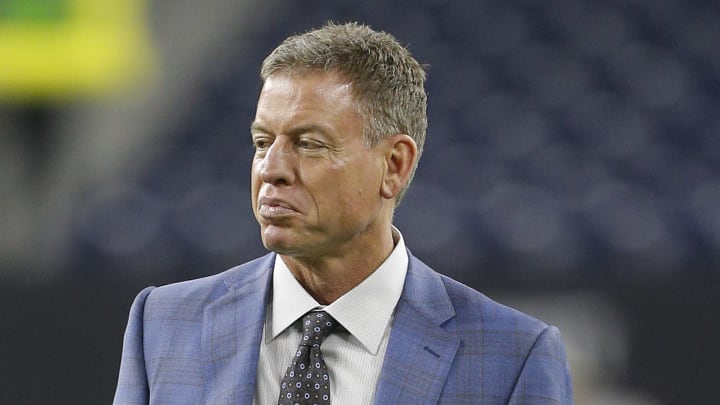 Troy Aikman, Indianapolis Colts v Houston Texans / Bob Levey/Getty Images
When Matthew Stafford was traded to the Los Angeles Rams in exchange for Jared Goff and three draft picks, everyone had takes. Perhaps none was stronger than Michael Silver's. In a column on NFL.com, Silver defended Goff, while also taking some shots at Troy Aikman. That has ignited a feud that has us running to grab popcorn.
Here's what Silver said in his column that ruffled feathers:
"Routinely trashed this season on FOX telecasts, specifically those with Troy Aikman as the lead analyst, Goff could reasonably assume that McVay's words about his quarterback's play in network production meetings were far from glowing. "
That's a pretty harsh accusation. Silver is essentially accusing Aikman of trashing a player repeatedly based mostly on what his head coach had to say. If true, it would look really bad for Fox's top in-game NFL analyst.
Sports Illustrated's Jimmy Traina reached out to Aikman to get a response to Silver's comments and he responded:
""Unlike Michael Silver, I strive to be fair and balanced and do not have an agenda when doing my job," said Aikman. "The record will show that I have been a strong supporter of Jared Goff's over the years. Unfortunately for the Los Angeles Rams and Jared Goff, he did not perform at his best in the games that I broadcasted this season and I'm confident Jared would be the first to agree.""
Oh damn, he came with the old "I'm more professional than the other guy" slam.
Well this is certainly heating up and will be something to watch as the week goes on. It appears these two men are not fans of each other and I doubt it will be resolved any time soon. Grab snacks and let's let them fight it out.