Tony Gonzalez Asked Jason Kelce if His Brother Was Dating Taylor Swift and He Didn't Deny It!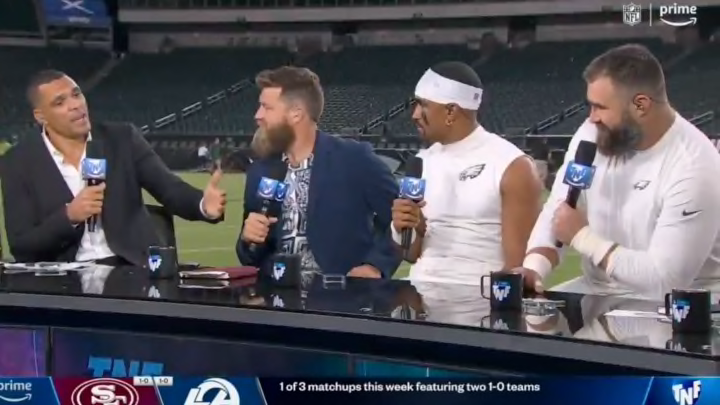 The Philadelphia Eagles beat the Minnesota Vikings, 34-28, on Thursday night. After the game Jalen Hurts and Jason Kelce were invited onto Amazon Prime's very, very crowded desk. Following the Eagles' 2-0 start there was one obvious question on everyone's minds - Is Travis Kelce really dating Taylor Swift?
Tony Gonzalez, father of a teenage daughter, took charge and asked a flawless question that any media member would be jealous of.
"So you talk about family and I have a 15-year old daughter. And she's a big fan of a certain pop star. And you have a family member, a brother, I think. I think. And I've been hearing rumors that there's... maybe some sub... can you comment on this?"
Gonzalez could have saved everyone some time by simply saying, Taylor Swift... can you talk about that?
Kelce and Hurts briefly protested about the substance of the question with Hurts calling it "gossip TV," but Kelce broke down and gave a non-answer about how people were interested in his brother's love life. It's the kind of deflection that makes you think maybe there is something to the Swift-Kelce rumors, but the Kelce family also likes to have fun so maybe they're just having a laugh here.
This has also made me wonder if this is the first time a football player has been asked about a sibling's love life in a postgame interview? It seems possible this has happened before, but probably never on this scale.
The Chiefs are back on Thursday Night Football on October 12th, so we may have to wait until then to get any actual answers. Just maybe let Charissa Thompson ask the questions.