Trae Young and Michael Porter Jr. Have Bright Futures and a Shared Past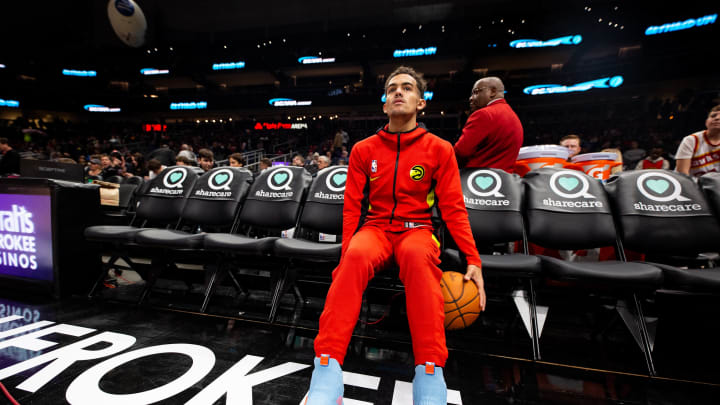 Milwaukee Bucks v Atlanta Hawks / Carmen Mandato/Getty Images
Michael Porter Jr. and Trae Young went to dinner at Chops steakhouse in Atlanta on Sunday night before the Nuggets and Hawks played on Monday.
The two have been good friends for years and formed one of the most dynamic duos in all of the country when they played on the same AAU team in high school.
This time they squared off for the second time at the NBA level as competitors, not teammates.
"It's something we always dreamed about," Porter Jr. said. "To be on the floor at the same time is special."
Young came into the NBA last season as the fifth overall pick and finished second overall in Rookie of The Year voting. On the other side, Porter Jr. went into the NBA as a prospect seen as having superstar potential, but dealt with injuries and ended up as the 14th overall pick. Last season was a redshirt year for him in the NBA, sitting out the entire season.
This year, they finally got the chance to square off, and Young came away victorious in the first one. Finishing with 42 points and 11 assists, he carried the shorthanded Hawks to a gigantic road upset in Denver.
"Last game he pretty much beat them by himself," Porter Jr. said before the game. "We're trying to come in here tonight and get one back."
This time Porter Jr. and the Nuggets finished with the last laugh. However, Young still finished with 29 points and 12 assists. Porter Jr. has had good games this season, but after dealing with injuries to start his career also plays on a Nuggets team loaded with depth.
"It was good being able to play against him. I'm looking forward to the day he gets to really really shine," Young said. "Once he gets a chance to shine, he can play. People that played against him growing up they know that too."
Right now Young has had a much better start to his NBA career, but Porter Jr. says he has never lost a game of one-on-one to Young. While that may or may not be accurate, the extreme height advantage would make sense for Porter Jr. to dominate these games.
"We played 100 times. He's never won," Porter Jr. said.
With both players being just 21-years-old, there is sure to be many more battles of competition over the next decade.