Trading Xander Bogaerts Would Obliterate Any Semblance of Hope Left For Red Sox Fans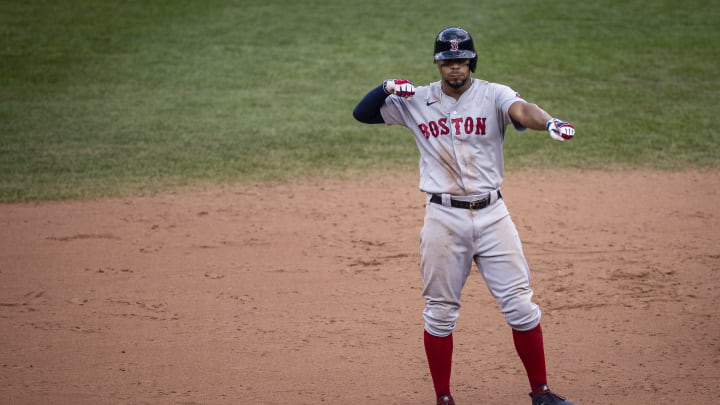 Xander Bogaerts / Scott Taetsch/Getty Images
Putting real world problems aside for a moment, it has been a very bad eight months for fans of the Boston Red Sox. Contract negotiations with the greatest home-grown talent they produced in decades deteriorated to the point where a trade felt inevitable. After months of waiting with sick stomachs, a deal was made, and the Red Sox received a paltry haul for Mookie Betts, one of the five best players in baseball. There were some legitimate arguments made about the value of paying any individual between $300 and $400 million for the next decade, but at its heart it was a cost-saving move made by an ownership group that has its fingers in dozens of pots around the world, including running Premier League side Liverpool.
The following months did not improve matters. Chris Sale was declared out for the season before it began. Eduardo Rodriguez, shaping up to be a solid No. 2 starter, tested positive for COVID-19 and was later sidelined for the year after heart complications followed. Then the season actually started and everything got worse, somehow.
The young, exciting players who were supposed to usher the Sox into a new era got off to a horrendous start. Andrew Benintendi couldn't hit a ball off a tee before he got placed on the injured list. His season average from the plate remains a hair over .100. Rafael Devers, the young 23-year-old slugger that was a wonderful surprise of a prospect, has struggled immensely at the plate and in the field. The pitching staff has been historically bad, giving up eight runs in six straight games in one stretch. Everyone on the mound just got the tar beat out of them, nobody could hit a damn thing, and the Red Sox tumbled down the AL East rankings to their current status: basement dwellers, proud owners of a 9-20 record, and looking to sell at the trade deadline.
Which brings us to Xander Bogaerts, perhaps the only light in a sea of darkness this season for Boston. The 27-year-old shortstop is only hitting .271 but has looked like the only player who cares on the field this year. He has been putting in an excellent season defensively. He is also -- alongside J.D. Martinez -- tabbed as the player most likely to get traded before Monday's deadline. While my pleas to both the baseball gods and John Henry went unheard during the Betts saga, I once again submit an appeal: please do not trade Bogaerts.
Bogaerts is sort of like Betts-lite for Red Sox fans. He is certainly not as good as a player, but he came up in the system. He was a very unlikely source of energy in the Red Sox' 2013 World Series run and he's grown up before the eyes of the fans from a fun young prospect to one of baseball's better all-around shortstops. Bogaerts was also rewarded as such when he signed a six-year, $120 million extension with Boston last spring that kicks in this year.
The guy is under contract for a reasonable sum. Nobody is going to give Boston their best prospect for a good shortstop. Trading him would serve one purpose -- helping the Sox save as much money as possible. To say it serves any other purpose is a laughably transparent lie. The fans have already suffered enough under that holy commandment over the last eight months.
If Boston is quietly plotting a five-year rebuild, then sure, Bogaerts may not play a role in the next Red Sox championship team. But to ship him off would just be devastating. Bogaerts is a beacon, representative of the good times long past and the future filled with possibilities. He's also one of the few positive ways to take everyone's mind off the horrendous baseball being played in front of them.
So please, for all that is good, do not trade Xander Bogaerts, and with him the little hope left in Sox fans everywhere that the new front office actually has the team's best interests at heart and not just the bottom line.