The Top Five Sports Hamiltons of All Time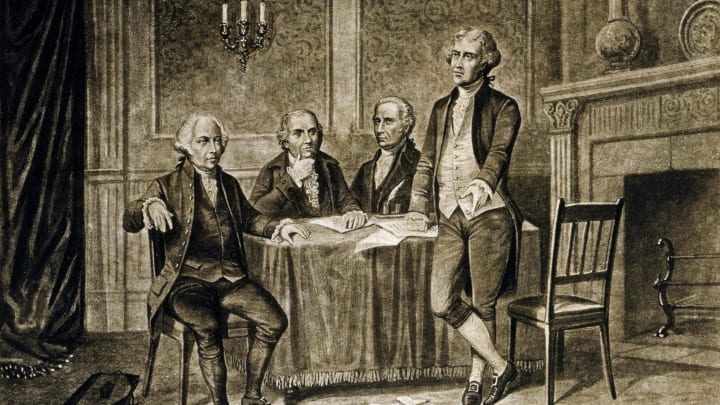 America's first take. / Heritage Images/Getty Images
Hamilton, Lin-Manuel Miranda's smash Broadway musical hit about the life of Alexander Hamilton, is coming to Disney+ on July 3rd. Disney announced the news on Tuesday, much to the delight of the many Ham-heads online. With high-ranking Google search results and trending topics in mind, here are five of the best athletes ever who shared a name with our most popular founding father.
Richard Hamilton / Ezra Shaw/Getty Images
Richard Hamilton
Rip Hamilton played 14 seasons in the NBA. He was a consistent scorer, averaging between 17.3 and 20.1 points per game every season for decade. He was a core part of the Detroit Pistons team that made two consecutive NBA Finals and won the 2004 NBA Championship that helped end the Los Angeles Lakers' dynastic run. He then made three straight All-Star games. In '05-'06 he led the NBA in three point shooting percentage at 45 percent while attempting just 1.5 per game.
Josh Hamilton
Hamilton was an MVP and five-time All-Star with the Texas Rangers. He led baseball in batting, slugging and OPS in 2010, RBIs in 2008 and hit a career-high 43 home runs in 2012. He signed a 5-year, $125 million contract with the Angels the next offseason, but his career and life fell apart because of injuries and substance abuse.
Billy Hamilton 1897 / Transcendental Graphics/Getty Images
Billy Hamilton
Slidin' Billy stole 914 bases between 1888 and 1901. That number remains the third-most in baseball history behind Rickey Henderson and Lou Brock. With more than twice as many triples (95) than home runs (40) in his career, he may have a claim as the fastest Hamilton.
Bobby Hamilton
Bobby played 12 seasons in the NFL as a defensive lineman, winning two Super Bowls with the New England Patriots. Before that he played for NFL Europe's Amsterdam Admirals and in high school he lettered in football, baseball, basketball and track.
Hamilton Porter
Ham Porter was the catcher for The Sandlot team in 1962. Easily the best trash-talker of all the Hamiltons, he would go on to become a professional wrestler. You might know him as "The Great Hambino."