Tommy DeVito Had the Most Italian Touchdown Celebration in NFL History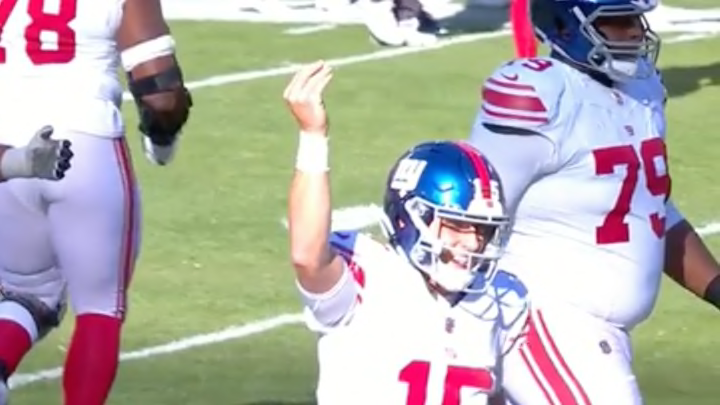 The New York Giants came out with a new gameplan against the Washington Commanders in Week 11 that included letting rookie quarterback Tommy DeVito throw the ball down the field. In fact, he threw the ball way down the field to Saquon Barkley for a 24-yard touchdown pass on New York's third posession of the game.
DeVito has already surpassed his 86 yards passing from the Giants blowout loss to the Cowboys in Week 10. To celebrate, DeVito ran down the field appearing to make an Italian hand gesture.
He's cookin' here. While the Giants punted on three of their first four posessions, DeVito started the game completing six of his first seven passes for 87 yards. A far cry from the guy who was only allowed to throw screen passes when he first saw action against the Jets a few weeks ago in his NFL debut.
It took a little while, but the Giants are finally comfortable letting the local kid throw the ball, which should be considered a prerequisit for playing quarterback in a professional football game. Not everyone has to be Josh Dobbs, stepping off the plane throwing darts and making moves, but it's nice to see backups who are allowed to actually throw the ball. If DeVito keeps this up, who knows what kind of feast his mom will cook for dinner.