Tom Kim's PGA Championship Mud Bath Had Announcers From Around the World Cracking Up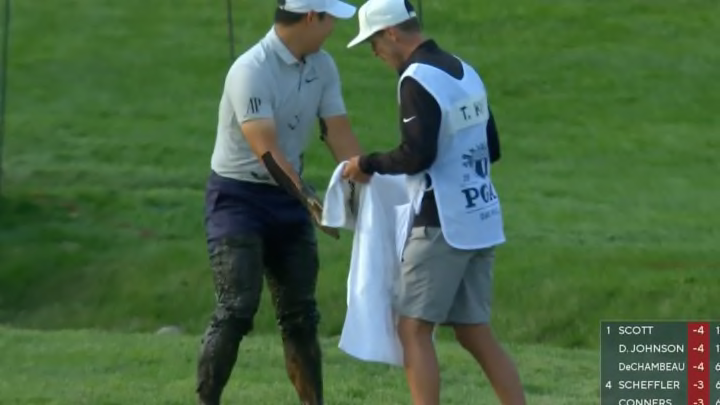 Tom Kim shot a 3-over 73 in the first round of the PGA Championship at Oak Hill. He also took time out of his round to take a mud bath. Kim took his shoes and socks off and rolled up his pant legs to and strolled into the infamous Rochester wetlands to find a ball on the 6th hole and emerged absolutely covered in mud. Much to the delight of golf broadcasters around the world.
Scott Van Pelt and the ESPN crew were in stitches.
The Sky Sports crew was laughing even harder as they hoped there would be more pictures.
Kim tried to play it cool by going for a quick dip in a nearby stream to clean up. Unfortunately, the whole thing was caught on camera and the world had seen him as a muddy mess. And the best part was when he finished his round and got to his phone and found out that he had been shown on television.
Kim, a 20-year old from South Korea, is coming off a T-16 finish at his first Masters. And now he's etched himself in the memories of PGA Championship fans forever. What a start to a career.
UPDATE: Here's Kim recounting his adventure. He did not find the ball, but he did have a pretty good sense of humor about it.