Tom Izzo Is Way Ahead of Schedule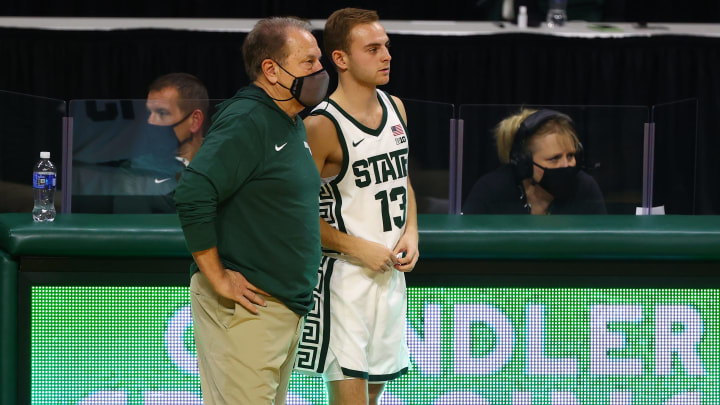 Rey Del Rio/Getty Images
A win at Cameron Indoor is a win at Cameron Indoor. Tom Izzo is not going to apologize for his Michigan State team flying down and taking care of business, raucous sweaty crowd or not. Nonconference road wins in Durham don't just happen with Real Housewives spinoff regularity. Duke suffered only its third such defeat since 2000 at the hands of a team that lost a bonafide legend in Cassius Winston and battle-tested Swiss Army knife in Xavier Tillman.
So Izzo doesn't want to hear about any asterisk. And really, it's not as though the history books need to go through the trouble of putting a game played on the first of December in full and complete context. If anything, either this entire year deserves some sort of universal asterisk or none of it does. All of that can be debated.
What can't is that this Spartans team is looking like a vintage, March-ready side more immediately than any has in a long time. Those familiar with the familiar story arc know that a brutal early slate turns into mild January trepidation before the growing team rounds into form just in time for the Big Ten stretch run and postseason. It almost seems like Izzo prefers this storyboard, or at the very least, it's an time-tested journey to the place he wants to arrive at when the clocks spring forward. There's a level of comfort there.
Despite coming in with slightly deflated expectations (one projection puts MSU fourth in the conference) and serious holes to fill and roles defined, the Spartans have looked both competent and poised from the opening tip.
Vaunted transfer Joey Hauser announced his arrival against Eastern Michigan while Foster Loyer, who has struggled to look like he belongs on the court, rained down triple after triple and showed the rest of the world the growth behind closed doors that's been an open secret. Then MSU dismantled Notre Dame through clean living and 26-0 run bookending halftime. All 15 players stepped onto the court. Eleven of them scored.
It was a glimpse into the unassuming but no less valuable depth Izzo has at his disposal. Depth he needed against Duke. Because State stumbled mightily out of the blocks, allowing the Blue Devils to score 13 of the game's first 16 points. Hauser and his frontcourt partner Thomas Kithier got into quick foul trouble. The offense looked like an old truck with a rusty, uncooperative gear shift.
They needed a leader. Someone to step up into the chasm created post-Winston.
Aaron Henry was that guy, keeping heads above water and eyes on the prize. He came back to East Lansing after exploring the NBA in the offseason. This is a collective effort but it's also his team. In plain English he needs to be "A Dude," which is what he looked like against Duke, scoring 14 points, grabbing five boards, and handing out five assists, while racking up three steals and blocks apiece. He may not have led all the box-score categories but his fingerprints and leadership were all over the game.
That's what it's going to be like this year. Guys like Julius Marble are going get surprise career-highs. Malik Hall is going to be a burst of energy. Gabe Brown is going to knock down four threes off the bench in a second-half rally. Izzo has a tremendous stable of options with which to play.
This will afford him the opportunity to tinker. To take a happy song and make it happier, which will be a welcome change to trying to fill whatever leak that springs with warm bodies. We know so very little about the college basketball to this point but the potential MSU has to be elite defensively is plainly obvious. It's also clear that Izzo will get to really explore the space with his well-wielded paintbrush this year.
He is so far ahead of usual schedule that it must be jarring. But hey, that's a damn good problem to have.