Tom Hanks Brings David Pumpkins Back to SNL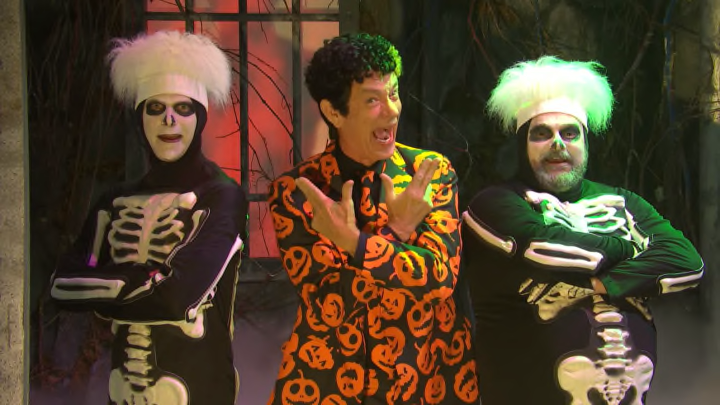 Tom Hanks was back making a cameo on Saturday Night Live this week and, it being Halloween weekend, he brought one of his most beloved characters with him. Yes, fam, David Pumpkins made his triumphant return.
If you're unfamiliar with Mr. Pumpkins what, exactly, have you been doing with your life? David S. Pumpkins is a character Hanks created along with Mikey Day, Bobby Moynihan and Streeter Seidell for the October 22, 2016 episode of SNL.
Here's the first sketch he appeared in:
That sketch is an absolute classic. It's weird, has an ending you don't see coming and everyone in it is so committed. Also, it has a two-time Oscar winner in a pumpkin suit and fully owning the role.
Well, Hanks was back in the suit Saturday night and Moynihan returned to his skeleton costume during an episode hosted by Jack Harlow. It was an incredible cameo with a full sketch in a call-back to the first one.
It's funny every time. I love that they waited six years to bring him back for a full sketch, but I'd be fine if Hanks was in the role every year at this time.
Hanks has brought the character back in various forms over the years, including for a rap video in 2017:
And in a full Halloween special later in 2017.
But this is the first time he's been back for a full sketch on SNL. It was so well executed and it's even better that it came on an episode Hanks wasn't even hosting. That made it an even bigger surprise.
Well done by everyone across the board. It was fantastic television.