Tom Brady Tossed the Lombardi Trophy Off His Boat at the Buccaneers Victory Parade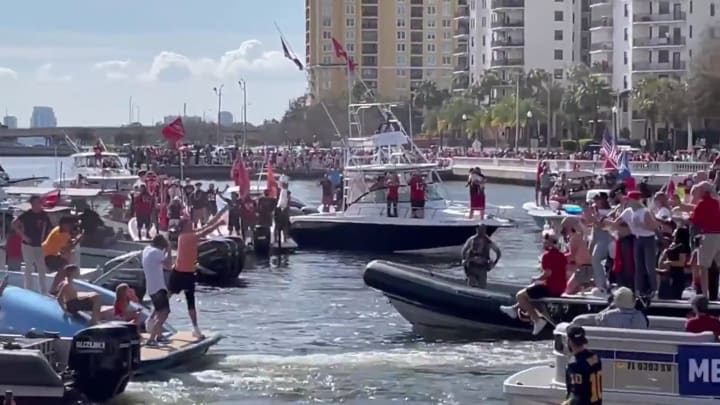 Tom Brady throws the Lombardi Trophy to another boat during Tampa Bay Buccaneers Super Bowl LV victory parade /
Tom Brady is clearly feeling himself today. As the 43-year-old and his Tampa Bay Buccaneers teammates celebrate their resounding victory in Super Bowl LV with a boat parade, the seven-time champ is having a blast. He even brought his new $2 million yacht to the occasion.
But perhaps nothing showed Tommy was completely in IDGAF-mode as when he threw the f***ing Lombardi Trophy across the water to another boat. Yes, that actually happened.
Brady tossed the Super Bowl championship trophy off the back of his boat over open water to another boat behind him. He hit his intended target -- because he's Tom Brady -- but still! It was the craziest decision he's made since dating Tara Reid.
Check out multiple angles of his madness:
Two things, that's not some short toss. It was at least a full boat-length. And while they're not riding the swells of the Atlantic Ocean, that water is deep enough for boats to pass easily. That means it's far too deep to be tossing the Lombardi Trophy around.
In the end, Brady completed the toss so we can't be too angry, but let's not pretend that wasn't some insane behavior.