Tom Brady Compares NFL Season to Military Deployment, Doesn't Sound Optimistic About Work-Life Balance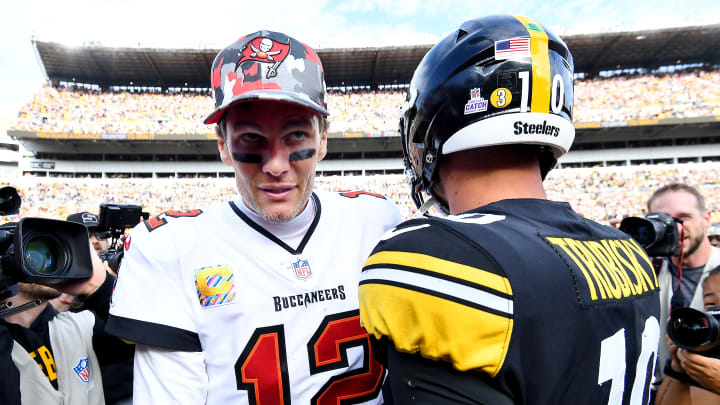 Tampa Bay Buccaneers v Pittsburgh Steelers / Joe Sargent/GettyImages
Tom Brady welcomed Kevin Durant onto his podcast this week. Durant joined Brady and Jim Gray to talk about a number of things including the importance of a "playful" work-life balance. Kevin Durant, a single 34-year old basketball player, seems much more concerned he might be missing out on something during the season than Brady, a married 45-year old football player with three children. But to hear Brady talk about it, it doesn't sound like he feels he has much of a choice as he compared it to being in the military. Via TMZ:
"I almost look at like a football season like you're going away on deployment for the military," Brady said. "And it's like, 'Man, here I go again.'"
Durant wondered if at this point in his life he should still be so immersed in his profession. The Nets star said that during the season he goes into a hibernation mode and when the season ends he wonders if some life passed him by. Brady sounds like less concerned.
"The reality is," he continued, "is you can really only be authentic to yourself. Right? Whatever you may say -- 'Ah, man, I want to, you know, make sure I spend a little more time doing this during the season,' the reality is, is when it comes down to it, your competitiveness takes over and as much as you want to have this playful balance with the work balance -- you're going to end up doing exactly what you've always done, which is why you are who you are."
This certainly explains a lot of what's been in the news about Brady lately. With the Bucs 3-3 and sideline fits becoming a common thing plenty of other people are wondering about Brady's choice to come back. The question is, has Brady questioned that decision yet. If he's even capable of that.