Tim Hardaway Sr. Thinks Bol Bol Is Better Than Victor Wembanyama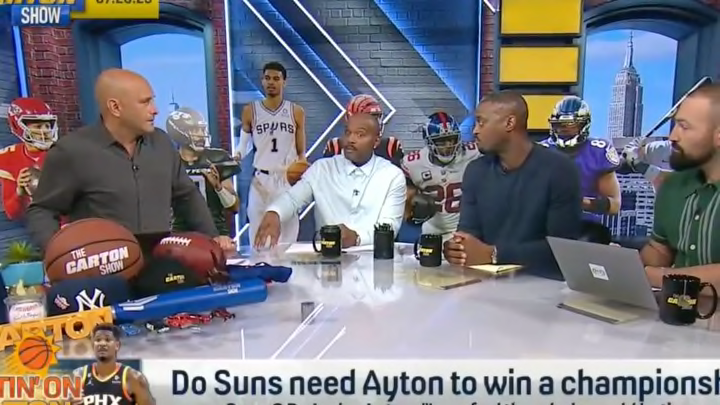 Carton Show /
Tim Hardaway Sr. entered into the sports media realm on a full-time basis earlier this year when he became part of Craig Carton's panel on The Carton Show. He is apparently learning the nature of the game quickly as evidenced by his utterly outlandish statement on today's show-- that Bol Bol is better than Victor Wembanyama and has more "physical talent" to play in the NBA right now than the Frenchman who went No. 1 overall in this year's draft.
Bol Bol serves as an interesting litmus test for how well someone actually knows basketball. Because he is definitely an enticing talent, given his preposterous proportions (standing 7-foot-2 with a 7-foot-8 wingspan) and ability to handle and shoot the ball like a guard. However he also has failed to make any sort of impact at any point in his four NBA seasons. Bol Bol warmed the bench for the Denver Nuggets after he went in the second round, got traded to the Orlando Magic, had one good month, then got waived this summer.
Those who do not know ball see his name and his height and assume he is a good NBA player. Those who know ball understand that he is not a good NBA player by any stretch of the imagination. Do we know that Wembanyama is a good NBA player? Not yet, but he has already averaged a double-double in a professional basketball league, putting up 21 points, 10 rebounds, and three blocks per contest in France last year. Unlike Bol Bol, who boasts an average of six points and three rebounds per game in his NBA career so far.
If we give the elder Hardaway the benefit of the doubt here we can interpret his opinion as Bol Bol is more physically ready for the grind of the NBA than Wembanyama. They are both very tall and very skinny but Bol Bol is a few inches shorter and 10 pounds heavier. Through that lens you can see how one might make that case since the only knock against Wembanyama as a prospect is that he is so big and slim he is going to get hurt. But even that wilts under the spotlight, because Bol Bol's only college season ended with a foot injury. The sort of injury everybody fears Wembanyama will suffer, but one he hasn't actually suffered yet. Bol Bol has.
I would be very happy to check back in on this opinion in January when Bol Bol is averaging fewer points than minutes per game and Wembanyama has already locked in his spot as Rookie of the Year.