Tim Anderson Loves to Swing the Damn Bat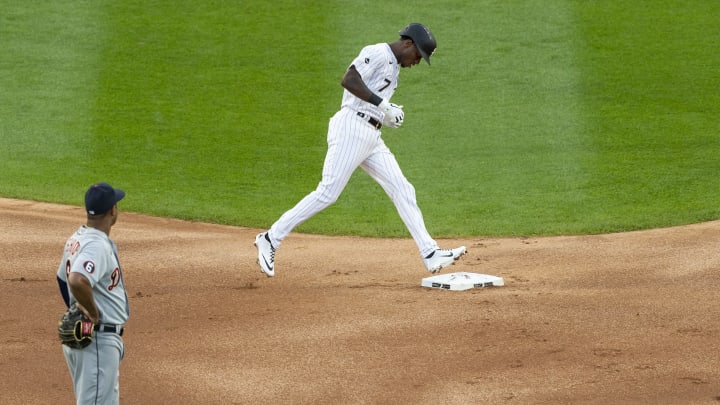 Ron Vesely/Getty Images
Tim Anderson deftly twirled his bat with style and grace to pace the American League in batting average last season. It was not a flash-in-the-pan aberration. It was a promise of what's to come. Because all Anderson has done this young season is smack the cover off the ball to all fields with authority.
Since coming off the IL on Aug. 11, Anderson has 12 hits in his 28 at-bats, all but one going for extra bases (five homers, a triple, and five doubles). He's collected two four-hit games in that short span and fallen just shy of a cycle twice. Anderson has singlehandedly destroyed the Tigers in the way the kid from Little Big League thought Bill Wedman killed the Tigers, going 11-for-19 with four dingers and 10 runs scored over five games.
For the entire year, the fleet-footed shortstop has crossed the plate 19 times, one shy of the American League high-water mark shared by two players who have each played in nine more games.
Good Lord. This man is a run-scoring machine. A hitting machine. A swagger machine. An energy machine. If Charlie Gehringer was the Mechanical Man, Anderson is making a strong case to be Version 2.0.
Even the fly in the ointment, a microscopic walk rate, has shown signs of improvement. After drawing 15 bases on balls over 123 games in 2019, Anderson has managed three free passes in his 14 starts this campaign. It's tough to quibble with a guy who is simultaneously getting on base, clearing bases, and crossing the finish line himself, but erasing that albatross would make him an even stronger contender for best shortstop in baseball.
Those are the quantifiable things. Anyone watching over the past few weeks has been bludgeoned over the head with this guy's innate ability to cover all quadrants of the strike zone, brutalize mistakes, and make chicken salad out of pitcher's pitches. Small sample size and all that, yet it's very rare that a player explodes to such a white-hot status. Especially after just getting healthy.
Most inspiring for White Sox fans, and most terrifying for rivals, is the feeling that he hasn't even approached his ceiling. If he's going to go ahead and add slugging prowess to his contact, then it feels like game over for opposing pitching.
Anderson is just having fun out there. He always does. It's just easier when you're playing out of your mind.