Thursday Night Football's Sam Schwartzstein Thinks Fans Can Handle the Truth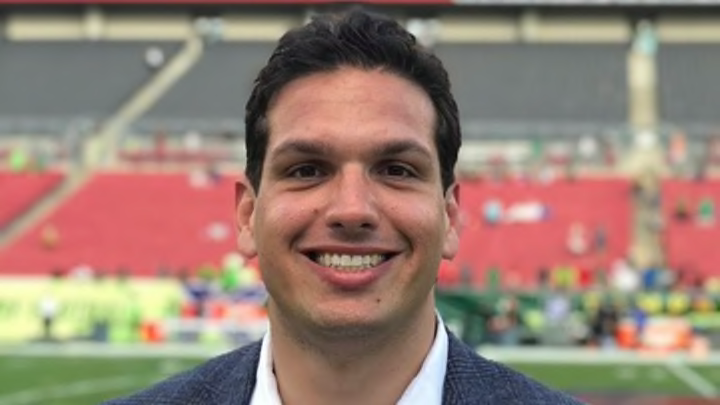 The Big Lead spoke to Sam Schwartzstein, Thursday Night Football's analytics expert, in advance of Amazon's sophomore year and couldn't help but notice that he has a bit of a Most Interesting Man starter pack going on. He was a captain on the 2013 Rose Bowl-winning Stanford Cardinals. He was part of the founding team that relaunched the XFL in 2020, helping to write the rule book from scratch. He's done a tour in Silicon Valley. In his role with Amazon, Schwartzstein's remit is to provide insight on how teams operate and players stand out, working closely on Prime Vision with Next Gen Stats. There are essentially numbers floating around his head like that Zach Galifianakis GIF twenty-four hours a day. But his main job, it seems, is as a translator. To contextualize what all the data says and deliver it so an audience can understand what it says about their team and their favorite players.
Schwartzstein wants to break stuff — he admits that he committed offensive holding on pretty much every play in college because the officials would never allow flags to create a four-hour television product — and wants to put it back together in a way makes it more complete. During our conversation he toggled between describing the build model at a lean startup and extolling the importance of Average Rush Yards Over Expected from Next Gen Stats powered by AWS. With Year Two of Thursday Night Football about to kick off, there are plenty of new curiosities to explore and present.
"Football is the greatest television product in America for a reason, but can we find things on the margin and push ourselves?" Schwartzstein said. "Prime Vision itself is a playground, it's a laboratory for new things. What if we try something new and tried it in a sandbox environment. I feel very fortunate. The culture, the team is an awesome team that all has that same mentality where we know we're doing something different. We know we're doing something unique."
Schwartzstein works closely with Jared Stacy, director of global live sports production who oversees the entire Thursday Night Football production and coordinating producer Alex Strand, who oversees the Prime Vision with Next Gen Stats alternate stream.
Prime Vision with Next Gen Stats was one arrow in Amazon's quiver last season and they've redoubled their efforts in the space. Alternate broadcasts are undoubtably having a moment but no other network has had the confidence to incorporate as much analytics into the space. When we asked if America was truly ready for that as a side with their cold beer and hot wings, Schwartzstein provided an economic and reasonable answer for why everyone should be embracing the future: Because NFL teams already have.
"We're trying to do our best to help everyone educate," he said. "I know our team is excited about the use of analytics, both how we're doing our graphics and how to be better educated. Our mantra is teams care, fans should care. It just takes time for everyone to get on board. Another great thing is coaches are giving a lot of credit to analytic staffers right now. It used to be such a secret part of their team, if you had it they were locked away in a corner that no one knows about, wasn't even on the blueprint of the building. Over time people are getting more and more invested in this process."
We'd never thought about it. Human nature can be resist to things and, honestly, a deluge of numbers has felt cumbersome. But Schwartzstein hammers home the idea that information is power. Both in the hands of teams and the hands of viewers. With a steadfast commitment to only providing insights that are actually insightful in understanding what teams and players are doing, Amazon aims to facilitate a more engaged, thoughtful fan. Their team starts with the eye test and doggedly dives into the analytics to see if it matches what they're seeing. Crucially, it's an agnostic process. They aren't interested in supporting a narrative. They're interested in allowing everyone to build their own based on what is actually happening. And why it's happening.
"There are no shortcuts and it's all about giving fans the truth," he said. "We're just going to show what's out there. We probably had 20 ideas to come up with this season and 4-6 could come out this year but we're not going to put anything out that's not going to help the audience. And if something doesn't work, we'll take it down. It's about being honest with our viewers and they'll be honest with us. We'll adapt and change as they give us feedback."
Television was never a place he thought he'd find himself, especially during the early years growing up in Connecticut. His family was more likely to wonder why the lights were on at the high school on Friday night than to attend a game. Then he moved to Texas, where he said you'd better play football if you hope to have any friends.
"In high school, I played tackle. If you asked my dad what position I played he'd say guard. I'd correct him and he'd say you don't tackle the quarterback, you guard the quarterback. You're the guard. They love it now."
Everyone has their own story of fandom. The Schwartzsteins learned to live the game because they had a vested interest. Some people get their love of a specific team passed down for generations. Our kids see wide receivers making sick grabs on TikTok. There's no wrong way to do it and expanding the canvas to include the more analytic-inclined only widens the tent.
"Analytics is a gateway to a new fanbase," said Schwartzstein. "People who have won the big Data Bowl, which is a competition that the NFL hosts for analytics, the people who made the Rush Yards Over Expected model that we use on air, they were two scientists from Austria. They don't watch professional football. But they were like, oh a new cool data set to play with? It's an entry point for a lot of people who might not have been interested in football because there's so many different ways to analyze the game with analytics. I think everyone's getting more open and excited about what analytics can do to help boost a broadcast."
Last year was a whirlwind, both for Schwartzstein and Prime Vision and Amazon as a whole as it embarked on a never-before-tried streaming experience. Lessons were learned and they've been able to edit as opposed to create out of whole cloth. There's confidence they'll continue to build an attractive suite for different interests after establishing the foundation. Viewers can expect the debut of at least four new features this season. Defensive Alerts will track the players most likely to rush the quarterback. Prime Targets, an enhanced version of last season's Open Receiver feature, will identify receivers that are open and likely to convert a first down. Fourth Down Decision Guide will help fans understand how fourth-down decisions are made by coaches in real-time and Field Goal Target Zones will provide more context surrounding drives where a field goal has added importance.
"We spent the offseason listening to customers, listening to fans or the people who watch our games, really trying to drill down specifically on what they want and it's how do we contextualize situational football," he said. "That's really what it is. How do we process pre-snap? How do we watch what a quarterback is doing? What are they worried about on defense? We'll be able to showcase that using machine learning. Which players the quarterback is likely worried about in each defensive formation. How do we approach fourth-down communication better? Instead of reacting to a team going for it on fourth down and saying analytics says go or not to go, where do they have to get to to be in fourth down territory? Where does the model say they need to get to make a fourth down. Treat it the same way coaches are hearing from their analytics coordinators. We're going to provide the same kind of viewing experience."
Prime Video's TNF coverage kicks off on Thursday, Sept. 14 at 7 PM ET with the Vikings at the Eagles. Prime Vision with Next Gen Stats, TNF's weekly alternate stream, debuts on Thursday and will be available for all 16 regular season games on Prime Video.