On This Day in Sports History: Charilaos Vasilakos Wins First Marathon Race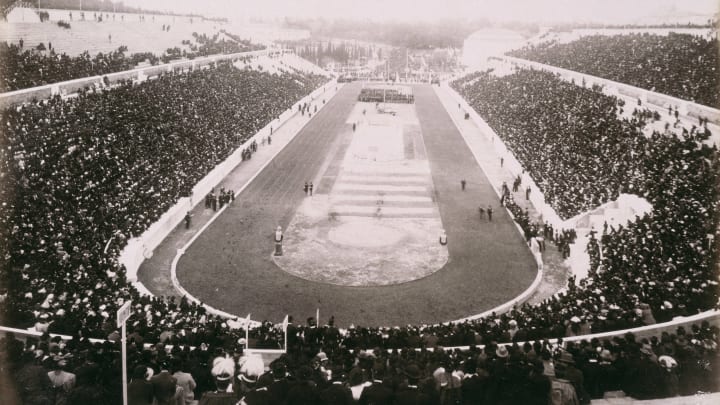 Athens hosts the first modern Olympics in 1896 / Heritage Images/Getty Images
The marathon has long been one of the signature events of the Olympics and the race has a long and storied history. On March 22, 1896, the first ever edition of the race was held at the Panhellenic Games and Charilaos Vasilakos was the winner.
In Greek legend, we're told that in the aftermath of the Battle of Marathon, Pheidippides was sent as a messenger from Marathon to Athens to announce the Athenian army under Miltiades had defeated the invading Persians. The story claims that he ran the entire way and after arriving exclaimed, "we have won" before falling dead. There is much debate about the veracity of this tale, but let's be honest, it's a great story.
Obviously when the first modern Olympic games were scheduled for 1896 in Greece, the organizers realized that a race honoring Pheidippides' run would be a perfect event. It would evoke the greatness of ancient Greece, while also challenging the racers to a grueling competition that could galvanize the games. They added the marathon to the program.
Before the Olympics, Greece held the modern Panhellenic Games in March of 1896, in order to help select the competitors for the Olympics. The first marathon in world history was held during those games.
A 23-year-old Greek law student, Vasilakos, finished the course in three hours and 18 minutes to win the first running of the event in history. A few weeks later at the Olympics, fellow Greek Spyros Louis took home the gold with a time of 2:58:50. Vasilakos earned the silver medal with a time of 3:06:03. Only nine of the 17 competitors finished the race.
Vasilakos became a lawyer and went on to work in the Greek Ministry of Finance. Though he never triumphed at the Olympics, he'll always be remembered as the first man to complete an actual marathon. Unless, of course, you believe the Pheidippides story is true and not a legend.