There Isn't a Good Way to Recreate Homecourt Advantage For Top NBA Seeds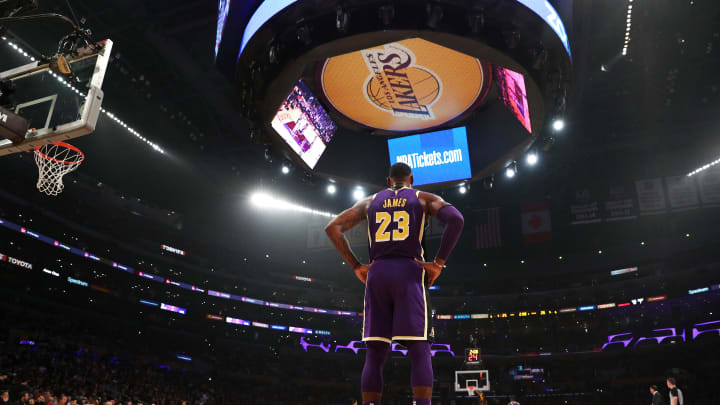 LeBron James / Yong Teck Lim/Getty Images
It's rightfully quite low on the NBA's list of priorities, but once the games get going again down in Orlando (in whatever format they cook up), it might become apparent that the lack of homecourt advantage will be a detriment to the top seeds. Not so much of a detriment that it will compromise competitive balance -- teams have homecourt advantage because they're good teams, not the other way around -- but once the field narrows, homecourt often gives the slight edge needed to win games.
With the games set to take place at a neutral site with no fans, that edge is out the window for everybody. Late last night, ESPN's Dave McMeniman reported that the top seeds in the conferences are working together to put a proposal forward that would allow them to reclaim that advantage in their new enviornment in Orlando. Nothing can truly recreate the boost that comes from playing on your home turf cheered by your own fans, but the top seeds' excellence during the regular season shouldn't go unrewarded. It will be tough to get any proposal passed because it would require a two-thirds majority vote and probably only eight teams at most would be a guarantee to vote yes.
But it is, at the very least, a fun thought exercise. Here are the ideas McMeniman reports these teams have come up with so far:
The higher-seeded team being awarded the first possession of the second, third and fourth quarters, following the traditional jump ball to begin the game
The higher-seeded team being allowed to designate one player to be able to be whistled for seven fouls instead of six before fouling out
The higher-seeded team receiving an extra coach's challenge
The higher-seeded teams being able to transport their actual hardwood home court from their arenas to Orlando to try to preserve the feel of their home playing experience
An off-court feature in which playoff teams, in order of seeding 1-16, receive first choice on picking which hotel they will stay at in the ESPN Wide World of Sports Complex and Disney World Resort. ESPN is owned by the Walt Disney Co
Allow top seeds to pick their first-round opponent
A one-of-the-above selection before each round (excluding the right to pick an opponent)
Out of all these, my favorite by far is the right to transport their literal court down to Florida. A close second is the privilege of picking your hotel first. The latter would especially get lower seeds riled up after they get stuck in a glorified Motel 6 because LeBron James wants a bed fit for a king.
The other examples that would affect on-court play more directly seem balanced, but there's just no way the lower seeds will approve any of them. They have no incentive other than trying to make it "fair" for the teams that would have had homecourt, and I can't imagine worse teams will be willing to lower their chances of an upset.
If the NBA decided to pump in crowd noise in the arena, that could be a potential avenue. Whoever controls that gives the higher seed cheers whenever they make a basket and boos or silence for the lower seeds. It wouldn't make a big difference either way, but it's the closest thing to literally recreating a home atmosphere outside of moving the courts. I recently saw a Japanese company developing an app that would allow fans to broadcast cheers or boos into the stadium from their homes-- maybe the NBA uses that and only gives access to season-ticket holders of the higher-seeded squads. Far from a perfect solution and a whole lot of room for error there, but it's something!
Overall, though, there just isn't a good way to make up for the lack of homecourt advantage. At least half of the teams in the playoff field wouldn't agree to any measures that directly impact on-court play (or their living situations), and letting the top seeds pick their first-round opponent is sure to make the asterisk conversation louder, which the NBA should want to avoid at all costs. Unprecedented times means unprecedented paths are taken, but it seems like the best teams are going to have to prove they are the best with all things equal.