Did The Rock Have a $30 Million T-Rex Skull Behind Him During ManningCast Appearance?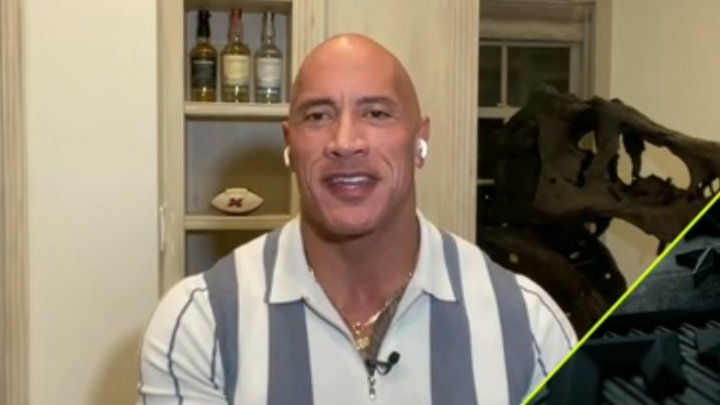 Dwayne 'The Rock' Johnson /
Part of the fun of the ManningCast is the wide-ranging list of guests they've managed to book throughout the season. For Monday's playoff game between the Los Angeles Rams and the Arizona Cardinals, Peyton and Eli Manning hosted Dwayne "The Rock" Johnson during what ended up being a very, very long second quarter.
The Rock was a good guest to have during this stretch because it was fairly boring and filled with horrific errors by the Cardinals, and not the fun kind of errors that make a game exciting. Everyone's attention, however, was mostly focused on Johnson's background, which featured a very large dinosaur skull.
Eventually Johnson was asked about it. He told the Manning brothers the skull was named Stan and it is the most complete T-Rex skeleton ever to be excavated by a paleontologist.
This lines up as something an uber-rich guy would have hanging around his house. But people quickly figured out that Stan the T-Rex was sold for quite a bit of money in 2020. We're talking over $30 million. Per National Geographic:
Now, an auctioneer's hammer has thrown Stan's future into question, with the dinosaur bones sold off to the highest—and, so far, anonymous—bidder, stoking fear among experts that this beloved T. rex may be lost to science.
On October 6, the London-based auction house Christie's sold the T. rex for a record $31.8 million, the highest price ever paid at auction for a fossil.
This does not necessarily mean that The Rock dropped a cool $30 million on a T-Rex fossil, but it definitely might. In which case it is one of the biggest "rich guy on TV" flexes of all time.