The Open Championship: Zach Johnson Collects Second Major, Jordan Spieth is One of the Greatest What a fantastic tournament. The Open Championship on the Old Course at St. Andrews did not disappoint. From Dustin Johnson jumping out to an early lead, to ridiculously long wind delays and decisions to let players play for 30 minutes while their ball moved on the green, to amateurs at the top after 54 holes, to lead changes every five minutes, to caddies dancing, to a fantastic Monday finish that included a playoff. And while Spieth's performance at the Masters was spectacular and the finish and drama of the greens at the U.S. Open were fun to watch, this tournament, the 144th Open Championship, felt special.
Jordan Spieth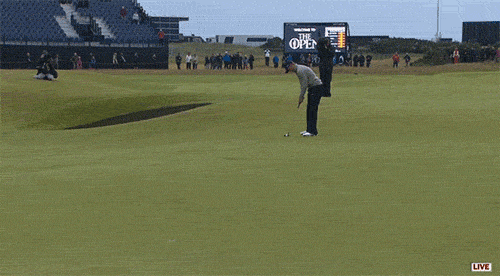 Back in April I wrote that Jordan Spieth could become the new face of golf for America, it's safe to say that he has. Spieth has won four tournaments this year, including two majors – the Masters and U.S. Open – and he's finished in the top five in six others.
Spieth had the attention of everyone, or at least everyone who was able to watch on Monday, during his final round at The Open Championship. Heading into the day with a shot at history, Spieth got off to a solid start, making three birdies in his first six holes before slipping up. On the par-3 eighth, Spieth made a terrible double bogey, but was able to somehow wipe the mistake from his memory and bounce right back with back-to-back birdies on the ninth and tenth. Spieth made par on the next five holes before making a huge birdie putt on the 16th – GIF above – to tie for the lead. On the par-4 17th Road Hole, a hole that had played like a par-5 all week, Spieth missed a 10 foot putt for par to the right and walked away with a disappointing bogey to drop back a shot behind leaders Zach Johnson and Marc Leishman. With a chance to tie again on the 18th, Spieth's chip from the left side of the fairway spun back into the Valley of Sin and he missed his birdie opportunity by a couple of inches.
Putting was an issue for Spieth this week. He had six three-putts, and a four-putt, which is something we don't see very often from the guy who is ranked eighth in strokes-gained-putting. But in the long run, none of that matters, because what Spieth did in winning the Masters and U.S. Open in the same year and then finishing in the top 10 at The Open has only been done by four other golfers: Palmer, Nicklaus, Hogan and Woods. Next month, Spieth will have a chance to join two of those names, Hogan and Woods, as the only players to win three majors in a calendar year. That is some very elite company for a 21-year-old who appears to have all the intangible characteristics that should make him one of the most likable golfers to ever play the game.
Zach Johnson
Zach Johnson is 39-years-old. He's the guy who most don't expect to win, but when the conditions turn crappy, he somehow hits wedge shots that make you do a double-take. This was Johnson's second major tournament victory; the other came at the 2007 Masters after the weather at Augusta changed for the weekend and became cold and windy. He won that 2007 Masters at one-over, holding off the likes of Woods, Goosen, and Sabbatini. It's the only time the Masters winner has ever finished over par, so when conditions turned on Monday at The Open, and the course got a little windier and the rain started coming down, Johnson was in his element.
In his Monday round at The Open, Johnson finished the front nine at five-under. He then made birdies on the 10th and 12th before dropping a stroke on 13. His only other bogey came, no surprise here, on the par-4 17th, but Johnson answered by making his fourth birdie of the week on 18. It was enough to propel him into a playoff with Marc Leishman, and those two were joined by previous Open Championship winner, Louis Oosthuizen.
Johnson and Oosthuizen got off to a great start in the playoff, both made birdie on the par-4 first hole while Leishman went down two-strokes after a bogey.
Johnson then made birdie on the par-4 second while the other two finished with a par. All three made bogey on 17, again, no surprise, and after Johnson missed his birdie putt on 18, Oosthuizen had an opportunity to tie him and send the playoff to sudden death. It wasn't meant to be for Oosthuizen, who missed his putt and sealed Johnson's win.
This won't be the last we see of Zach Johnson. Johnson has finished in the top 10 in eight tournaments this year, including this win and his third place finish at the John Deere Classic.
Dustin Johnson and Sergio Garcia
Dustin Johnson held the lead heading into the third round on Sunday, but as has become usual with the long bomber off the tee, he finished up with a disappointing third round that was only made worse by a terrible final round. In his last two rounds at The Open, Johnson made nine bogeys, one double bogey, and five birdies. Johnson's ability to out-drive the field is unmatched, but his putting and short-game need work. He ended up finishing tied for 49th.
When I wrote my U.S. Open review, I mentioned that I hoped that Johnson wouldn't become the next Phil Mickelson and constantly finish second at that tournament, now I hope he doesn't become the next – this may bother some of you – Sergio Garcia. Garcia also made a run on Monday, and after going five-under through the first 11 holes, he finished by going three-over on the last seven holes. It's something that has almost become expected of Garcia, and something that, as a golf fan, I don't want to see. I want to see both Johnson and Garcia collect their major tournament wins because both of them are talented enough to do it.
GOLF WINS AGAIN!