The Eagles Were Victims of the Worst Taunting Call of the Season Against the Bucs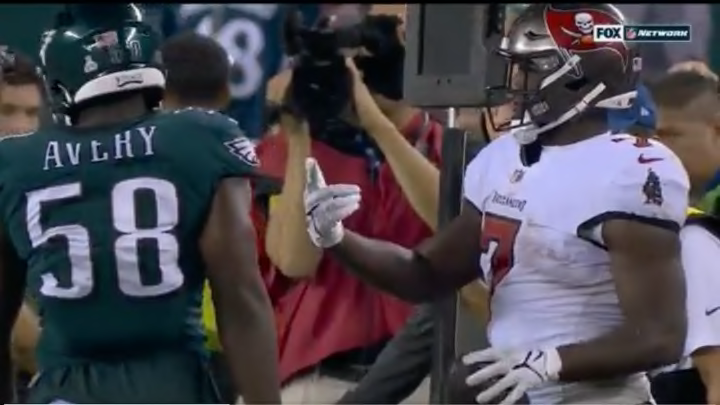 The Philadelphia Eagles fell short in their comeback bid against the Tampa Bay Buccaneers on Thursday Night Football. The Bucs won 28-22, but who knows what would have happened if the NFL's new taunting rule hadn't reared its ugly head late in the fourth quarter. This really was egregious.
To set the scene, the Eagles had scored touchdowns on two of their previous three possessions with a 57-yard drive that ended with a missed field goal in between. The Eagles offense was clicking and if you believe in momentum in sports, the Eagles had it.
On first down from their own 25, the Bucs ran the ball with Leonard Fournette, who was pushed out after a two-yard gain. Genard Avery stood over Fournette with his mouthpiece in. Fournette quickly jumped up and put his shoulder into Avery's chest before pulling the NBA-level flop. He even pointed as if to say, "look what this brute did!" The contact was completely initiated by Fournette and Avery got the flag that gave the Bucs 15 yards and a first down. Momentum was gone. The Bucs ran out the clock a few minutes later.
The worst part is that Mike Pereira had to then come on and say, "make the play and turn away." If that's the first time we've heard that little mnemonic device, it won't be the last as people have to justify these stupid taunting calls.
Obviously, if this call isn't made the Bucs still probably win. The Bucs still had the ball and the lead and it was only second and eight, Tom Brady has overcome longer odds in his career. But this call would be stupid and unfair in the first quarter. In the fourth as the Eagles were showing signs of life it just seems... wrong.