'The Dan Le Batard Show with Stugotz' Will Embark on New Era From New Studio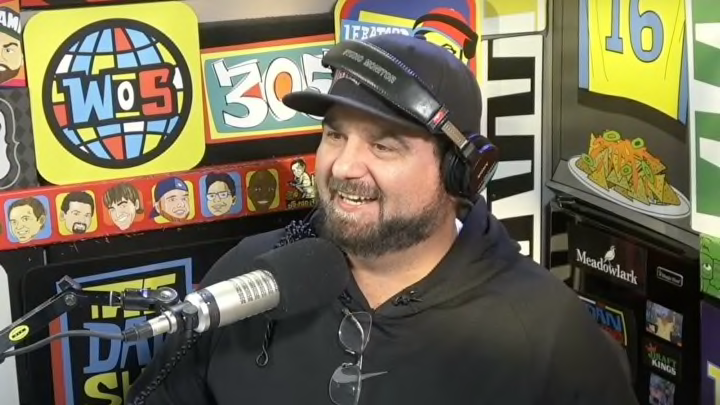 The Dan Le Batard Show with Stugotz will be leaving its longtime home at South Beach's Clevelander hotel and upgrading into new Miami studio space in 2023, The Big Lead has learned. The colorful and crowded headquarters have seen a tremendous amount of hijinks, walks to the ocean, and important conversations through the years but will give way to digs aimed at allowing the show more freedom to creatively experiment with structure while retaining the same fan-favorite DNA listeners have grown to love.
A definitive timeline has yet to be finalized but a source says the move could happen as soon as early spring.
Since Le Batard and John Skipper launched Meadowlark Media in January 2021, the company has grown significantly both in size and aspiration. A $50 million distribution and content relationship with DraftKings — the first of its kind — has yielded a rapidly expanding podcast network and talent roster in the audio, video, and digital spaces.
The next steps on their journey will take place in a new physical location and signal a new era for one of the most popular properties in the sports and entertainment arena.
The show and Meadowlark later today will also formally announce its fifth MAS Miami event, to be held December 10th. Billed as a "celebration of musical, cultural, and artistic freedom," this installment will feature a concert, live art, a smattering of professional athletes and crucially, Ron Magill's famed Sex and the Animals exhibit (baby!). Eight hours of commercial-free entertainment are promised against a backdrop of a dominos tournament and a World Cup watch party.
Musical acts include G Love, Patrick and the Swayzees, plus a DJ set by The Big Game co-creator Mike Ryan Ruiz. Multiple credible sources have suggested there could also be some surprises in this department that won't disappoint on the condition such surprises weren't spoiled.
Someone may eat a toenail if things get weird, though we all sincerely hope it doesn't come to that.
Earlier this week, Le Batard said thousands of tickets have been sold for the party, which has three to four times the budget as previous iterations. Hundreds remain at MasLeBatard.com.
"These are not things that have ever made money for us," he said. "We are throwing them in an effort to break even and we rarely do because the whole point of what we do is to thank Miami and thank the listeners. Having great gratitude for the fact that we're able to do any of this."