The Colin Cowherd You Don't Know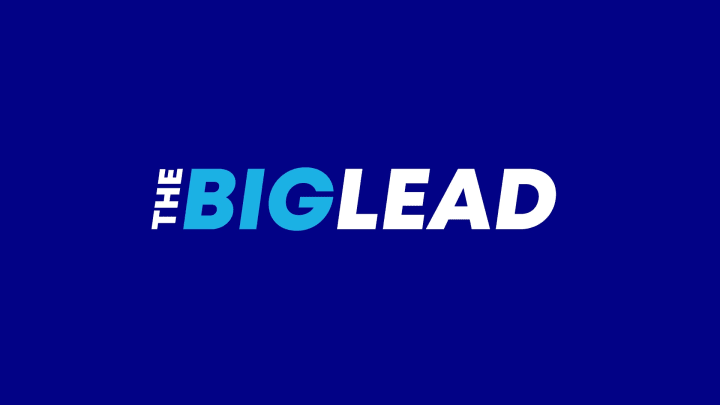 BRISTOL, Conn. – Colin Cowherd is crying.
"I felt terrible," he tells me in his office, his voice cracking. "I remember driving home – I'll get emotional about this – and thinking about my late dad …"
Cowherd stops himself again and tries to deep breath his way out of an Oprah moment on his own computer chair. Resistance is futile. I had asked Cowherd about his role in an incident five years ago that briefly blew up my fledgling website. Obviously – and surprisingly, given Cowherd's effortlessly cool persona – the memory aches.
"I can't talk about this. I'll get emotional," he says, tugging at the zipper in the middle of his chest on his midnight-blue Puma tracksuit. His eyes well with tears. "That was awful. It's the worst thing I've ever done to another person. It was a horrible thing to do … it ate me up."
His sparsely decorated office is across the hall from the new studio of his radio show at ESPN headquarters. Cowherd has just finished the broadcast and has a 90-minute breather until a routine meeting to plan for his snarky TV show, SportsNation.
Cowherd brushes his nose – which almost squares off at the tip, like a hammerhead shark – with his right fist before rubbing his eyes with his index finger and thumb. "This is embarrassing," he says.
Suddenly, he lurches chaotically: "I was Mr. Big Fucking Hot Shot who always had a really good sense of …" Cowherd slows back down. His stories tend to the elliptical. "I didn't go over the line, I leapt miles over it."
*
Colin Cowherd, 48, is a classic small-town boy consumed with ambition to trade starlight for neon lights.
He initially described his childhood as dark, later called it idyllic, then downshifted to isolated. He grew up in Grayland, Wash., a subdued fishing village two and a half hours southwest of Seattle. Even though he was active in school – three years on the varsity basketball team, quarterback of the football team his senior year, high school newspaper for two years – Cowherd described his home life as a solitary one.
He wasn't close to his older sister, Marlene, and his parents separated when he was young. His dad, Charles, was an optometrist who lived nearby and was married five times; his mom, Patricia – Colin likes to mention that she's British – was divorced three times. Colin spent most of his youth listening to baseball games on the radio on the roof of his house, which overlooked the Pacific Ocean. He often played wiffleball and basketball by himself while his mom tended to her garden.
"I'm dysfunctional," he told me in his tiny office, which is mostly empty except for unbuttoned shirts on hangers on a wall rack with knobs that look straight out of Pottery Barn. A shirt with a tie was draped over one chair; slacks were on another. A fire-engine red Eastern Washington basketball jersey with COWHERD on the back was neatly folded on a table.
"I've been through eight divorces," he said, in reference to his mom and dad's many efforts at marriage. "I talked to myself. I was raised on radio. Radio was my friend."
His "friend" became his career. At Eastern Washington, by his account, he all but took over the broadcasting department.
"They said, here's a mic, do what you want," Cowherd remembered. "It wasn't like Syracuse where there are 10 Mike Tiricos and Craig Cartons who are ambitious. I probably had 100 tapes coming out of college. Some of these kids that come out of Syracuse, they do four games if they're lucky. I was doing four games – baseball at noon, volleyball game later, radio show, DJ, whatever – a weekend!"
After graduating in 1985, Cowherd landed a baseball play-by-play announcing job for the AAA Las Vegas Stars. He called an inning or two and then worked the phones selling ads for the team (program, billboard, radio spots). He was making $7,800 a year. Outrageously ambitious, he went to work for a local TV station, KVBC, as an intern, and quickly earned the job of weekend sports anchor. His strong opinions on the show led to a local radio gig and he was juggling three jobs a week.
The tireless work ethic stemmed from a throat-clutching fear of being broke and a desire to be heard.
"I had no money," Cowherd recalled. "I was scared to death I was going to be unemployed and [have to] go back to my small rural town and be a nobody. Insecurity scared me to death. At Eastern Washington, everyone else was going to parties and I was obsessed with my career. Every hour of my life for about a 10-year period was broadcasting."
Cowherd had achieved a modicum of fame in Las Vegas, and his friend Trace Gallagher, who is now an anchor/correspondent at the Fox News Channel, said, "everyone knew him. We walked into basketball games and people were running up to him to shake his hand. We went out to dinner – he introduced me to my wife on this night – and we got comped at Benihana because the maitre d' knew Colin."
It was in Vegas where Cowherd first learned that you can draw attention to yourself by being a contrarian. The UNLV Runnin' Rebels were one of the best basketball programs in the country in the late 80s, and they would win a title in 1990 and nearly go undefeated in 1991. The brash, cocky team attracted national attention, and everyone (well, except the NCAA) loved its colorful coach, the seemingly shady Jerry Tarkianan. In February, 1990, after center Moses Scurry punched Utah State's head coach during a brawl, Cowherd used his perch as a sports anchor to slam Tarkianan and the team for classless behavior.
"I went to the grocery store that night and people came up to me and said, 'Fuck you, who are you, fuck you!"' Cowherd said, jabbing his finger in the air. "Ripping Tark was like ripping the Pope at the Vatican. Tark was it. Tark was bigger than Steve Wynn!"
Cowherd's button-pushing style can be traced to his favorite radio personality, Howard Cosell. "I liked people who got attention. I kind of respect guys willing to be hated … not everybody just toes the company line …" His eyes darted to David Scott, the blogger-cum-ESPN-PR-rep who spent the entire day with us. It appeared as though Cowherd wanted to expand on this point, but he caught himself before saying something he might regret.
After Vegas, Cowherd's next stop (technically, a pit-stop) was Tampa, where he took a job as a weekend sports anchor at WTVT-TV. Oddly (not really), the retirement-friendly Gulf Coast city proved significantly less exciting than Sin City.
"I was bored out of my mind," said Cowherd, who, because of his thirst to stay busy, quickly snagged a job hosting a morning radio show. Perhaps it was the distance from home, or the humidity, but he quickly was looking for an exit out.
I asked him if he began sending out his resume after six months.
"Shit, six hours!" he blurted.
So it was back to the West Coast, this time Portland. In Las Vegas, Cowherd determined he didn't have a voice for play-by-play, and his "last name wasn't Buck or Brennaman." In Portland, Cowherd saw ESPN was taking over sports on TV – making local stations less relevant – so he shifted his focus from weekend sports anchor to radio host. He decided his future would be in the talking box he grew up listening to on his roof.
*
Mike & Mike's ESPN radio show is widely viewed as extremely vanilla. Scott Van Pelt's ESPN radio show is the "cool" one. Both shows are extremely management-friendly. Cowherd, sandwiched between them from 10 a.m.-1 p.m. Eastern time, seems to relish the rebellious ethos of his show.
"I've yelled at management," he boasted. "I can tell you, Mike & Mike are not getting in those arguments. I'm not putting Arena Football on. They [meaning ESPN] say, 'Well, we bought the league.' Well, that's a You problem. I'm not putting it on. I will fight to the end, probably to my detriment. I've got a little Bill Simmons in me. [His producer] Vince [Kates] and I put up fights. [They might ask] can you put this NASCAR guy on? We ask, why?"
Van Pelt has a co-host, Ryen Russillo, and many successful shows – the now broken-up Mike & the Mad Dog is probably the best example – have two hosts. Not the brash Cowherd.
"I'm hard to tandem with," Cowherd admitted. "Radio is about strong opinions. Hard convictions … radio is theater. It's one guy telling stories."
Cowherd, who was essentially plucked from obscurity in Portland by former ESPN radio general manager Bruce Gilbert, replaced one-man radio legend and frequent line-crosser Tony Kornheiser on the dial in 2003. Kornheiser was an erudite newspaper veteran with a long history of reporting and writing. Cowherd was, well, younger and opinionated.
"I was replacing such a talented guy …" Cowherd said. "I came in with a chip – 'hey, F you!' I didn't care, I was going to make noise … I had a plan of attack. I was going to be better in the South and the West because of college football. I was never worried about D.C. I wasn't beating him in D.C. and he wasn't beating me in Portland."
I sat in on a pre-show meeting last week. Present were Kates, Rob Kelly, his associate producer, and Jon Goulet, his production assistant. On this morning, the trio batted around topics such as LeBron getting booed in Miami in the first half against San Antonio, Tim Tebow playing through injury against the Patriots, Ed Reed's comments about his QB, Joe Flacco, and the merits of Orlando as a city for impending free agent Dwight Howard.
Prepping for the show, Cowherd is a live wire, zipping around topics, dropping opinions unrelated to any of the potential segments they're talking about – "I would so bail on Peyton" – and sprinkling in random tales (texting with Aaron Boone about USC football recruiting minutiae) or obscure questions (What do you think of Michael Crabtree? He asked me, apropos of nothing).
"Can we stop with The Logo?" he said, referring to Jerry West. "That doesn't mean shit."
When he's broadcasting on radio, Cowherd stares straight ahead into the control room with kaleidoscopic intensity. He'll lock eyes with someone and stay that way, usually until a break or change of topics. His demanding gaze can be unsettling to the recipient, but it works for Cowherd because he pretends he's conversing with someone. Talking to Cowherd, it's the opposite – his desultory eyes dart around frequently, and you wonder if he's giving you his full attention.
"You really have to work to keep his attention," said Joe Donlon, a news anchor at KGW-TV in Portland who has known Cowherd for about 15 years. "You can see the wheels turning."
Cowherd and I took a brisk walk to Starbucks, which is a 3-pointer away from his studio. You'd think it would be awkward to walk past former NFL players Kordell Stewart and Jerry Rice in the corn maize that are the halls of ESPN, but it isn't. Cowherd likes to describe himself as a mason when he arrives at work – head down, grinding – and he rarely pauses to look around.
"When I was single for a minute, looking around, seeing all these beautiful 24-year-olds everywhere, I told my buddies this place could be dangerous," he said, laughing. "But you can't be an idiot."
Cowherd, married to his second wife, Ann, is the father of six (two biological, four stepchildren), and just as animated in public as he is on the air. His stentorian voice projects, and he can seamlessly go from telling a story to placing a drink order right back to telling his story.
"I'm paid to be a mile wide and an inch deep," he said.
Cowherd is always moving – he talks with his hands, his head swivels. Later, after another brief cafeteria break – he pays in advance for all his food, so he doesn't have to stop and wait in line; he just raises his hand and waves the sandwich in the direction of the cashier, who is aware of the arrangement – he bolted back to the studio, unwrapped his turkey sandwich and tossed the excess bread in the trash can. The man who thrives on provocation and neurosis couldn't wait to get back on the air and dispense opinions.
*
"Rob Lowe said Peyton Manning is retiring, and Twitter is melting down," proclaimed Michelle Beadle as Cowherd walked onto the busy set of his daily ESPN2 television show, SportsNation, last week.
Beadle, a genial blonde with a rapier wit, has been Cowherd's co-host of the show since its debut in 2009. On this day, she had her hair up in a mini bouffant and from a distance, looked a little bit like the actress Hilary Duff. When SportsNation was seeking a partner for Cowherd, the search lasted over a year and included the likes of Josh Elliott (now at Good Morning America), Sage Steele (hosts SportsCenter) and Lindsay Czarniak (before she had arrived at ESPN in 2011). Also, there was a "sports girl from New York" who nearly got the job.
"This girl was … pow," Cowherd laughed. "My sister met her and said, 'That girl's trouble.' She was a prettier version of my ex-wife."
Nobody had the immediate chemistry of Cowherd and Beadle, who are perhaps ESPN's closest TV duo behind PTI's Mike Wilbon and Tony Kornheiser. SportsNation has the youngest male demographic of any show on the network.
"She did four lines and I covered my mic and said to her, 'Job's yours. I'll fight for you. Lets get through this bullshit,"' Cowherd explained. "Of course, I didn't have any power, but I met with [ESPN executive VP] John Walsh and he's like, 'Well, one of the questions we asked her, I didn't like the answer … But I said, 'John, you don't have to sit with her, I do!"'
Beadle gives off the impression of one who is unaware she is being looked at. As she walks through the newsroom, she's oblivious to the eyes that follow her.
"I told her, 'Michelle, I'm the only guy at the company who doesn't want to sleep with you,'" Cowherd told me. "She's a great teammate. I walk up to her and can be like, 'Honey, your bra looks horrible. Your ass doesn't look good.' There's nothing there. She's not threatened by me, and I told her from the beginning I have her back."
I asked Cowherd about the simmering tension between Beadle and ESPN's other famous blonde, Erin Andrews. He tossed his hands in the air and said, "Michelle can be her own worst enemy. She knows it and I have her back, totally. I like them both. Erin is a bit more corporate. Michelle is like, 'F U' and drinks you under the table."
Buoyed by the success of SportsNation, Cowherd seems destined for another TV show, perhaps in 2013. After CBS didn't pick up the pilot he spent a year and a half working on, he said Showtime or HBO is the placed he'd go. The CBS show was about a divorced man with a strong ex-wife, a strong new wife, and a strong co-host, all of whom controlled his life. Hmmm.
Cowherd said he and the producer wanted Will Arnett from 30 Rock for the starring role – "he even looks a little like me" – but CBS didn't like Arnett and thought he was "too smarmy."
As Cowherd's radio and TV profile has grown, so has his popularity. Soured by gossipy types at his gym, Cowherd's wife built him a small workout room in their basement (one morning last week he was up at 4:21 a.m. and on the treadmill by 5), and he occasionally works out at ESPN. He's finally heeding advice Dan Patrick gave him long ago – wear a hat and glasses when you're in airports. Cowherd said he rarely goes to sports bars anymore, and he takes cabs in Vegas rather than walk the Strip. Cowherd's fame seems to be at the point where it is ready to drive him back to the isolation he had growing up.
*
Back to the tears.
"ESPN has always defended me – the only time they didn't defend me was you," he said. "My father would have been so disappointed. He was a small business person. I hurt my bosses. They were so disappointed. They told me I went '3rd rail' and put the company in danger and really screwed a young guy over. I didn't understand the gravitas of it."
Cowherd knocked this nascent website off the grid on the first day his radio show was streamed on ESPN.com in April 2007. He maintains there was no malicious intent. For no reason, he told his listeners, "Wouldn't it be great if, every day, we gave out a website, a new young website, and just blew it up?" Even though we frequently wrote about ESPN, we had never mentioned Cowherd.
The site was knocked off line for about four days. Reaction to the stunt wasn't pleasant. Cowherd was brutalized by bloggers, chastised by ESPN's ombudsman and scolded by his bosses.
The notoriety it brought him reminded me of what he said about Cosell, attention and being hated. For a moment, he was back in Grayland. Isolated. Insecure. Alone. And, ultimately, on his way to the top.