The Brewers Have Better Shot to Best Cubs in NL Central than Vegas Odds Suggest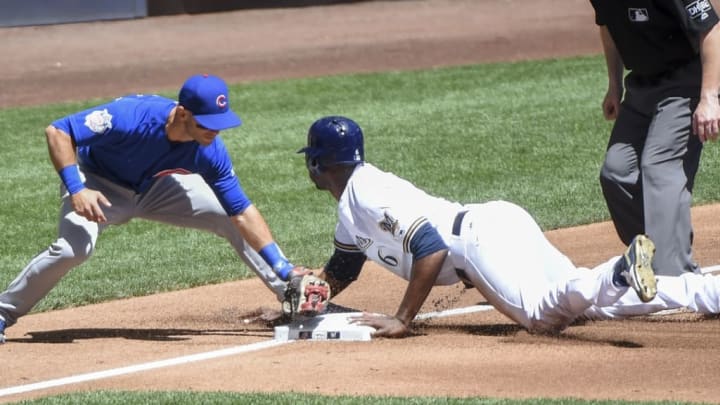 What remains of the national baseball discussion is largely confined to the Yankees and Red Sox. Nevertheless, as we look ahead toward the playoff landscape, the Cubs and Brewers are in a very interesting one-game race for the NL Central. They've got the two best records in the NL, they both made additions at the trade deadline, and it really feels like it will come down to the wire.
Although the Cubs are leading the division and have the best record in the NL, you wouldn't know it from observing the proverbial online conversation. Following an 11-3 stretch into the All-Star break, they're a pedestrian 9-9 since and their fans are anxious about it.
Over at The Athletic, the fantastic Sahadev Sharma wrote a piece last week about the Cubs' three biggest issues right now: Their starting pitchers aren't striking enough batters out, the batting lineup is feast or famine, and their lefty relievers have struggled.
It goes without saying that their lineup will improve when Kris Bryant returns from the DL, though at this juncture he still can't swing a bat so nobody knows exactly when that will be. The Cubs have also withstood getting essentially nothing from Yu Darvish, whom they signed to a 6-year, $126 million deal this past offseason; he's started just eight games and has a 1-3 record with a 4.95 ERA and -.2 WAR. If they do get him back from injury, it's hard to even forecast what the expectation for his performance would be. Cole Hamels, acquired at the trade deadline from the Rangers, has had a bad season but had a promising first start with the Cubs.
Granted I'm a Brewers fan and I'm looking at this whole situation through rose-colored glasses, but I believe they're better positioned for this stretch run right now.
The Brewers fortified their lineup at the trade deadline, adding Mike Moustakas and Jonathan Schoop. It gives them a lot of versatility; a lineup with Moustakas at third, Schoop at shortstop, Travis Shaw at second base, and Jesus Aguilar at first has a ton of power, though could conceivably have defensive issues in the middle with Schoop and Shaw playing outside their natural positions. Orlando Arcia is a very slick fielding shortstop, but has been sent down to the minors twice this season due to hitting concerns.
The Brewers' starting outfielders are Ryan Braun, who isn't what he was on the juice but is still a hitting threat, Lorenzo Cain, and Christian Yelich. In a world where every MLB team is going gaga over home runs and launch angles, Cain and Yelich are both delightful players who can produce scoring without hitting a million homers. If your professional GM can engineer a trade with a shortstop, I recommend it — here is how Yelich has been hitting of late:
The Brewers bullpen is stout with Josh Hader (bad tweets notwithstanding), Jeremy Jeffress, Corbin Burnes, and Joakim Soria (acquired from the White Sox at the deadline).
Admittedly, the Brewers' weakness lies in their starting pitching. I had been arguing that Jhoulys Chacin was the staff ace, but he gave up eight runs in 4.1 innings to the Dodgers in his last start. If the Brewers were in the Wild Card game, I have no earthly idea who would start. Would they dare start Hader for 2-3 innings? Maybe they get Jimmy Nelson back from injury and feel confident enough in him by that time?
Of course, that's a recipe that the 2014 and 2015 Royals–the team where Cain and Moustakas gained their playoff bona fides–used. Those teams did not have dominant starting pitching, but relied on the bullpen to take over games if they could get through five innings.
That being said, Las Vegas does not share my optimism for the Brewers. While none of the books I talk to do updating division champion odds, these are the odds for the Brewers and Cubs to win the world series, via Jason Simbal at CG Technology:
Cubs:
Yes +600
No -900
Brewers:
Yes +1700
No -6000
If you're new to these types of figures, that means the Cubs pay out at 6-1 to win the World Series and the Brewers pay out at 17-1. This suggests the Cubs have a far better chance to win the division, rather than having to emerge from the one-game playoff Wild Card scenario. If you think the Brewers are *not* going to win the World Series, there's no value to extract from that opinion — you'd have to bet $60 to win $1.
Anyways, if you made it this far I appreciate your indulging me in a baseball post. We will get back to our regularly scheduled Tom Brady and LeBron takes in no time, I promise.