The Best, Most American Summer Days to Grill, Ranked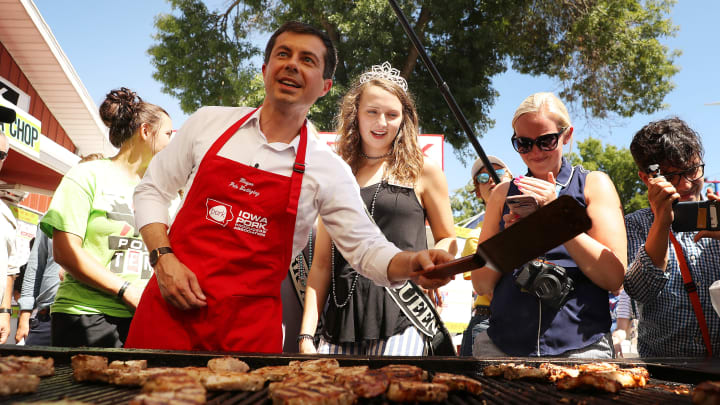 A middle American cookout. / Chip Somodevilla/Getty Images
Summer hasn't officially arrived, but cookout season has. Dust off that grill and cook your meat outside over an open flame like your ancestors did. Have some friends over. Just make sure to social distance. And while you read this, pretend the world is normal.
1. Memorial Day
The unofficial kickoff of grilling season. The weather has turned and it is consistently warm out. It's a weekday where no one has to work. The long winter has ended. It's time to reintroduce hot dogs into your regular diet. Make sure to remember the sunscreen and drink those domestic light beers in moderation. You're out of practice, but at least the mosquitoes are still on vacation, am I right!?
You have the entire summer ahead of you. You've mowed your lawn seven times already and each one has been magical. Isn't it great to be out in the sun? Got any plans this summer? Vacation is going to be great. It's nice to have the kids home from school.
2. Weekdays
There are no shortage of reasons to warm up the grill. It could be a weekend. It could be the middle of the week. It could be so hot that you can't possibly cook anything inside. It could be ideal weather to be outside. Just look at this tweet from a local weather person.
You know what the grilling forecast always says? Fire up the grill, especially if you need a break from the kids. If the average person is asleep for a third of their life, it stands to reason that they are cooking outdoors for even less, so use any excuse to cook out. You could have people over. You could be alone. Maybe the FBI needs some pictures of you and your friends. It's always a good day to cook outside.
3. Fourth of July
There are many facets to the Fourth of July cookout. It is most important to remember that it is a marathon and not a sprint. This is especially difficult with the cultural significance of the Nathan's Hot Dog Eating Contest. If noon rolls around on July 4th and you aren't itching to pile a plate full of hot dogs, dip them in water and see how many you can keep down in 10 minutes, then you haven't lived. If you have tried that, you might not have lived to read this, so it's really a toss-up.
Anyone who hasn't overdosed on hot dogs by 1 p.m. should be ready to stand by the grill all afternoon. You've got multiple courses, people are coming and going. Can you light another citronella candle? Thanks.
Everyone who is just stopping by on their way to something else will reluctantly say, "Sure, I guess I could have one burger. Yes, I'll have cheese. Where's the potato salad? These pretzels are making me thirsty! My wife!" You know how your friends get. Especially, when it's hot. It is so damn hot. So. Damn. Hot. You can't wait for the kids to go back to school.
4. Weekends
You can't possibly eat another hamburger this week. Do you have any idea what hot dogs are made of? Can we just order a pizza? Maybe if you have time to shower after you mow the lawn for the eighth time this week you can make it to a restaurant? Please, let someone else sweat on you food for once. How much for a babysitter? A million dollars? Done. Besides, I think the propane tank is almost empty.
5. Labor Day
Summer is over. Football has returned. The kids have gone back to school. You check the back of the freezer to see if there's any meat left in there you need to use before the winter. You will remark that it shouldn't be this warm at this time of year despite the fact that it is always this warm at this time of year.
You're so sick of sweating while you cook, but it's one last hurrah before everyone has to act serious for a couple months until Halloween kicks off the holiday season. It's already darker earlier and people have to be at work in the morning so you don't have to worry about a true all-day affair. Just make sure you're serving anything besides burgers.
People have been cooking out every day all summer just because some list told them that's what they should do. Food is served 2 .p.m and if you don't get there by 3:15, well, there are still some chips over there. I'd pass on the dip at this point. Not that it matters because they all have to work tomorrow.