The Best Major League Baseball Broadcasting Booths to Call an All-Star Game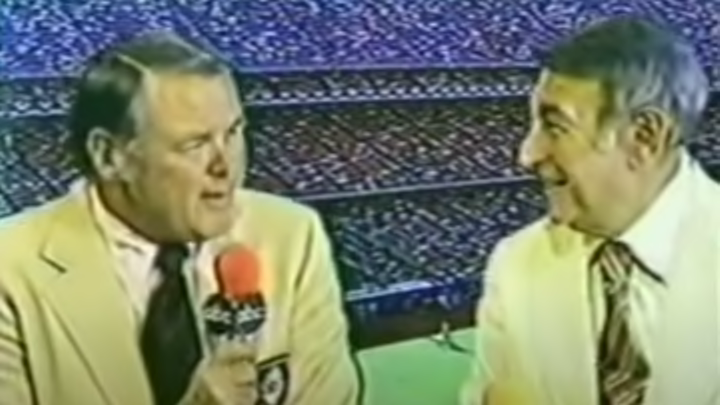 The Major League Baseball All-Star Game is a showcase of the brightest stars in the sport. It is also a showcase for its best broadcasters, who get to deliver a unique presentation of the Midsummer Classic. Television partners have tried many different tacts and most have worked, creating stiff competition for our attempt to determine the best booths to ever get the assignment.
Find all MLB tickets at our trusted ticket partner TicketSmarter.com today.
Sean McDonough and Tim McCarver, 1992
McDonough was calling some of the biggest moments in the sport before his 30th birthday and that includes the mid-summer showcase. Best known for his call of Sid Bream scoring from second in slow-motion, it's a real shame that his talents have been utilized across football, basketball, and hockey, because people forget just how much he brought to the nine innings. Tim McCarver is a baseball institution and incredibly malleable with partners. He brought gravitas without ever talking down to people. That's the ideal sweet spot, no matter how much criticism was lobbed in his direction.
Mel Allen, Curt Gowdy and Vin Scully, 1960
Talk about star power. Three legends of the game got together to call the second All-Star Game in these two years as Major League Baseball doubled down on the fun. Will be spending the rest of the day tracking down and consuming the archived footage from this masterpiece.
Keith Jackson, Al Michaels, Don Drysdale and Howard Cosell, 1980
It's becoming clear that the star-studded affair served as a showcase for the best and brightest in broadcasting to collaborate. Did All-Star telecasts serve as inspiration for the Expendables franchise? One may never know. It's just crazy to think these four were in the same booth. Michaels was mere months removed from his call of the Miracle on Ice and still may have been fourth on the call sheet.
Joe Buck and John Smoltz, 2016-2019; 2021
One of the most under-appreciated pairings, the World Series duo capably handled festivities and mixed fun with seriousness. Smoltz adds such tremendous value with his perspective, which includes doing pretty much anything a person can do on a baseball field. Buck provided a temperature check for the halfway point of the season and the broadcast spoke to both casual and diehard fans alike.
Bob Costas, Joe Morgan and Bob Uecker, 1996
As with McDonough, it's fun to go back and watch Costas on NBC. One wonders what his career would have looked like if NBC had landed the long-term baseball package. One doesn't have to wonder if he'd be great at it because his MLB Network spot starts are still wonderful. A wisecracking Uecker helped bring some joy into the booth and Morgan was enjoyable even if he occasionally got under nerves or inspired a sports blog.