The Atlanta Braves Will Win the World Series If They Continue to Allow Less Than a Run Per Game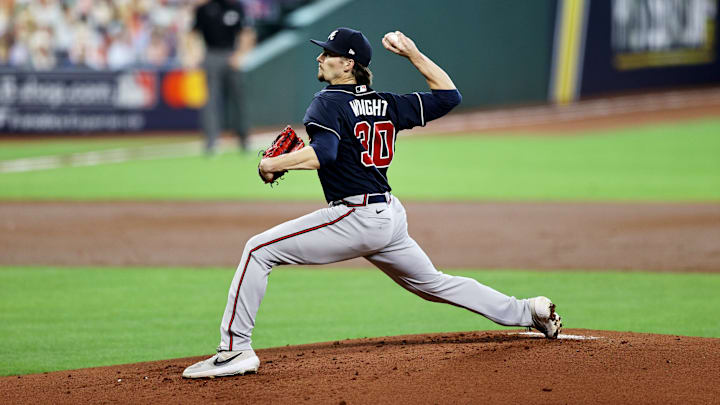 Elsa/Getty Images
For the first time in the Twitter era, the Atlanta Braves have reached a National League Championship Series. And in retrospect it's probably best the world didn't have access to this fanbase's every thought when they perfected the art of winning a division but falling short of winning a World Series. They've done so by stringing together a dominant stretch of pitching after unremarkable pedestrian work from the staff during the regular season.
Four of five victories have come via shutout. The last team to do that? The 1905 New York Giants. There wasn't even instant replay back then. There were two teams in Boston not named the Red Sox. The Dodgers were going by Brooklyn Superbas. Wild time to be alive.
The group has a 5-0 record and a 0.92 ERA, quietly putting together one of the most commanding shared shutdowns in postseason history — often before dinner on the East Coast and late lunch on the West.
Max Fried set the tone, twirling seven scoreless in the Wild Card opener. Seven relievers managed to stay zeroed in through 13 innings before Freddie Freeman plated the game's first and only run. Ian Anderson followed that up with a six-inning, nine-strikeout gem in the clincher.
Fried was chased after four innings in the NLDS against Miami, but the Braves offense exploded for nine runs to overcome the lone mortal effort. Anderson was fanning everyone in sight again in Game 2 and Kyle Wright put up six scoreless in the clincher.
All three of these starters are younger than 26, and have stepped up when it matters most. A dominant pitching run would have been unconceivable in late August when Atlanta's team era was a bloated 5.46. They got it down to a middle-of-the-pack 4.41 by season's end. Yet even the most optimistic of Braves fan (if he or she exists) would have been accused of staunch homerism for even entertaining a sub-1.00 playoff ERA.
Wright, in particular, is a stunning development.
Wright's emergence has been more recent. His early struggles left the top prospect's career line through Sept. 8 at 0-7 with a 7.86 ERA. He has now won three of his past four starts and given up only two runs over 19 innings in his past three outings.
Atlanta's hurlers will be tested by a Dodgers lineup that is both fearsome and battle-tested. As a savvy baseball-knower, though, I can tell you that continuing to pitch shutouts in 80 percent of their remaining contest will result in the first World Series crown for the city since 1995. No matter how many they give up in the fifth. Los Angeles could win 6,038,282-6 and it'd still be a gentleman's sweep.
Take that to the bank.