The 2020 NFL Season Will Be Filled With Trial and Error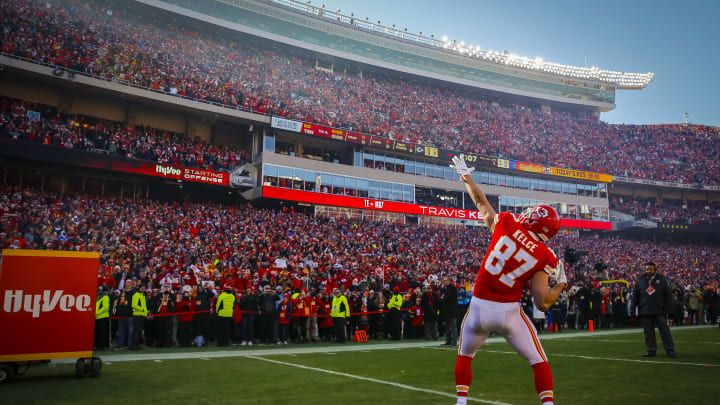 Travis Kelce / David Eulitt/Getty Images
It all came down to the wire, but the NFL and the NFLPA have agreed to most of the important health guidelines they'll need to adhere to in order to have a 2020 season. The finer details still need to be worked out, but players will be tested daily and enough safety measures will be installed for everyone to feel comfortable about reporting to camp over the next few weeks. As the final big domino to fall, the NFL capitulated and told the NFLPA that there will be no preseason games in 2020.
The players didn't want to play any exhibition games because it seemed like an unnecessary risk, which is true. Preseason games are important for roster evaluation, but that pales in comparison to the importance of keeping everyone as virus-free as possible before the season begins. But no preseason games also means that the first half of the 2020 season will be a trial by fire in more ways than one.
No preseason games means the NFL and the teams that make it up won't get any practice runs as far as COVID-19 safety precautions when other teams come to visit. By September, each team will undoubtedly have their own locker rooms and safety measures perfected to a T, but bringing in 53 new players plus staff from a different part of the country is another matter entirely. There will be minor mistakes made in the early process that will have to be ironed out. That comes with a big risk factor for something going seriously wrong without a chance to see which safety measures work. That would all be true even with a slate of preseason games, but the stakes will be higher in the regular season. If a mistake is made and a dozen players from two teams test positive from coronavirus in the first month of the season, that will change everything for the league.
No preseason games also means that coaches will be going through their own extended trial-and-error experience to start the year. This idea is significantly less important than the potential coronavirus pitfalls that come with jumping right into the regular season, but it's still a reality. Coaches use preseason games for both roster evaluation and to see what kind of packages and gameplans work with their first-stringers on both sides of the ball. Obviously starters don't play very often during preseason, but the exhibition games are still valuable to the coaching staff to see what works and what doesn't and who works best together. That process will now come in the first four weeks of the regular season.
That's tough for new coaches like Kevin Stefanski in Cleveland and will probably work in favor of coaches who are experienced and quick on their feet like Bill Belichick in New England. All teams go through a sort of transformation in the first month of the year, adjusting to the personnel they actually have from what they thought they had coming in. But it will be more extreme this season. There will be a lot of turnover near the bottom of the roster, too. Teams can have a maximum of 80 players report for training camp, but have to cut it down to 53 by Week 1, per usual. With no preseason games, coaches' ability to fully evaluate any potential diamonds in the rough will be significantly hindered. It's hard to find the next great undrafted free agent when they don't get any game time, meaningful or otherwise.
There will be a lot for everyone to juggle when the Kansas City Chiefs take on the Houston Texans to kick off the season on September 10. That was always going to be the case. No preseason games just means it'll be more difficult. The only thing that is certain? NFL teams have their work cut out for them.