The 10 Best Baseball Movies Ever Made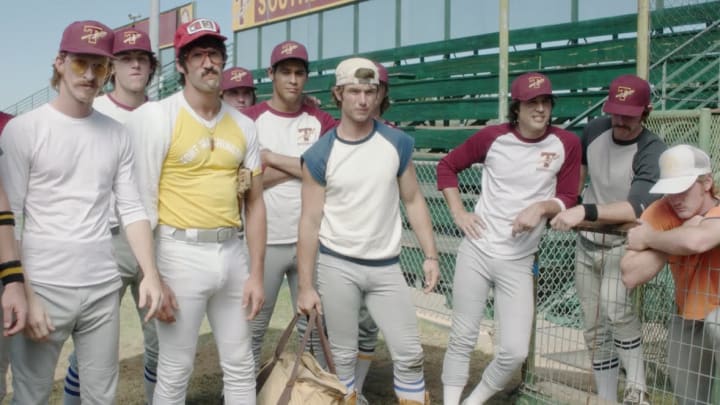 Most people who write on the internet and like baseball have already ranked their favorite films showcasing the sport, so why should I? Well, because, unlike all of the very wrong rankings out there, mine are unassailable and correct. Without further vamping, here is the answer key.
10. A League of Their Own
This movie worked but if you think about it in the abstract, it's kind of a miracle considering how busy everything was from the first reel to the last. An unlikable Tom Hanks finding redemption. Madonna and Rosie O'Donnell playing best friends. Jon Lovitz getting work. It's a highwire act that never gets off-balance. I'll go to my grave believing Dottie did not drop the ball on purpose.
9. Major League
These fictional Cleveland Indians were losers and not particularly lovable. That you root for them despite a script very light on actual human emotion is a testament to just how sharp the comedic beats are. Although, one wonders why we haven't gotten Charlie Sheen and Wesley Snipes together to let the sparks fly in an "over-the-hill" sequel.
8. Everybody Wants Some
How is this relatively unheralded 2016 comedy on the list? Because it's hands-down the funniest and most authentic look at college baseball and wild bros ever put on screen. Want a hot take? It's better than Dazed and Confused, the muse that inspired Richard Linklater. Watch it now.
7. Ken Burns: Baseball
I know what you're thinking: Ugh, a documentary? What do you want me to do, learn? I do. Burns' expansive 1994 series mirrors the slow, melodic pace of the game it explores. It paints things in timeless terms and feels important.
6. The Pride of the Yankees
This 1942 picture chronicles the heroic rise and tragic end of Lou Gehrig. It is powerful, thanks to the tour de force effort of Gary Cooper, who plays the lead. It's the weightiest film of this list but succeeds in hitting all the notes it aims for.
5. Sugar
This is the story of a young Dominican pitcher trying to break into the big leagues and hitting a ton of obstacles along the way. It has a happy ending, but it's far from the rote Hollywood one. Sugar is real, gritty, and underappreciated.
4. Moneyball
It takes special talent to turn a relatively snoozy plot into riveting cinema. The combination of Michael Lewis source material, Aaron Sorkin, and a stable of A-list actors qualifies as special talent. Brad Pitt is spectacular and Jonah Hill is appropriately aloof. I'll give it a pass for not mentioning the Oakland A's rotation because picking nits isn't what this list is about.
3. The Natural
This is the American Dream of baseball movies, chock-full of spine-tingling moments. Despite his cartoonish and unbelievable exploits, Roy Hobbs is human, without a doubt the purest ideal of athletic perfection in the group. That light-tower scene delivers even on the 100th viewing.
2. Field of Dreams
It's been absolutely jarring to find out there are some people out there on the internet who don't like this movie. It makes me cry, every single time. When Ray finally plays catch with his dad, oh baby, here come the waterworks. Deeply religious experience. Don't @ me.
1. Bull Durham
Let's not overthink this. It's funny, has realistic baseball situations, and intersperses a romantic storyline without hurting the bottom line. Near perfection.