Latest NFL Leads
Texans Kicker Ka'imi Fairbairn Had the Worst Field Goal Miss of the Year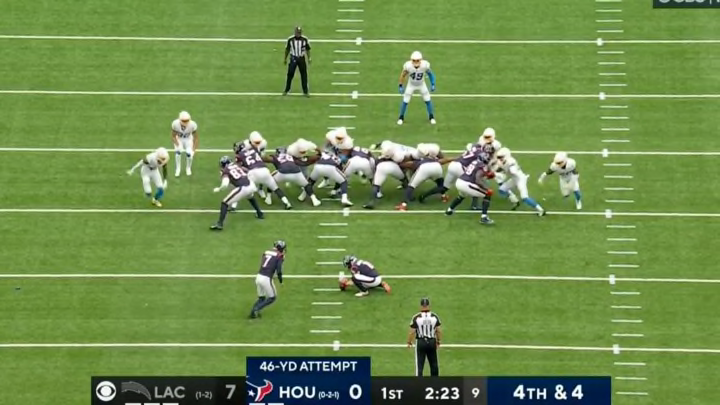 The Houston Texans hosted the Los Angeles Chargers on Sunday during Week 4 of the NFL season. The Chargers scored a quick touchdown courtesy of the Justin Herbert to Gerald Everett connection and the home team was in a hole early. They got some momentum going and eventually got into field goal range near the end of the first quarter. That's when disaster struck.
Houston lined up for a 46-yard attempt for Ka'imi Fairbairn, the Texans kicker for the last five seasons. Fairbairn then put forth perhaps the worst field goal attempt in recent memory and certainly the worst so far this season.
Usually when a kick misses that badly it's tipped or blocked or the hold was screwed up or something. As far as we can see nothing of the like happened here. The roof was closed so the wind was not a factor. Fairbairn just missed. Very, very badly.