Texans Fullback Somehow Returns Kickoff For Touchdown in Wild Sequence vs. Jaguars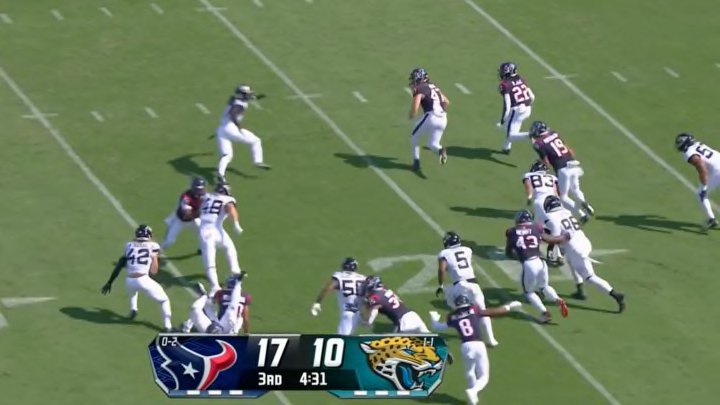 Jaguars-Texans /
The Jacksonville Jaguars were suffering through one of those everything-goes-wrong games against the Houston Texans on Sunday when everything went really wrong. After many wasted opportunities the Jags finally pulled to within one score of the Texans late in the third quarter. Jacksonville tried to pin the Texans deep on the kickoff by kicking it a few yards short of the goal line. Then magic happened-- for Houston.
The Texans' return man was running forward to field the kickoff but for some reason fullback Andrew Beck decided it was his ball. He stole the kickoff from the return man. But then he fumbled. The ball was bouncing towards the Jaguars' kickoff team and it seemed like a disastrous lowlight for the Texans right as they needed to steal the momentum. Beck managed to pick up the ball, started running, and then broke it into the open field.
You can guess what happened next. Beck took it to the house. It was impossible and incredible.
Absolutely amazing. Shades of Dan Connolly in 2010.
Where were you when the big man pulled off the return TD?