Texans Beat Writer Reveals Asking Price in Deshaun Watson Trade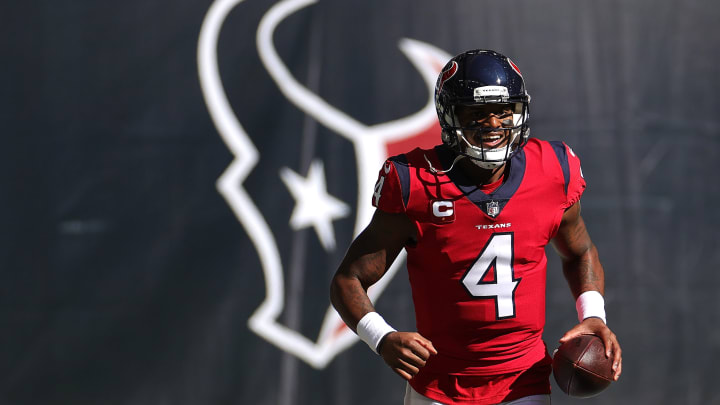 Deshaun Watson. / Carmen Mandato/Getty Images
When Matt Stafford was traded to the Rams for a king's ransom, I speculated that would increase the asking price for suitors hoping to acquire Deshaun Watson from the Texans. After all, if a 32-year-old quarterback who hasn't been to a Pro Bowl since 2014 can fetch two first-round picks, a third-rounder and a former Pro Bowl quarterback in Jared Goff, what could a transcendent talent like Watson yield?
According to long-time Texans beat writer John McClain, however, the Stafford deal doesn't impact the Watson deal. From McClain's perspective, if the Texans are going to trade Watson, which they said they don't want to, then they want two first-round picks, two second-rounders and two starting-caliber players in return.
Listening to McClain, who has covered the NFL for 45 years, is smart. He knows the Texans' defense needs to be rebuilt and the idea of getting proven starters in return for Watson appears to be more appealing than just stockpiling draft picks. That makes sense.
What also makes sense is the Texans not rushing to make a deal happen. The draft isn't until the end of April. That gives nearly three months to try and fix whatever's broken between the franchise and Watson. Those overtures are not expected to work, but they still want to try. If that door isn't opening, then they wait for all the offers to roll in and pick the top one before the draft. Simple as that.
The trade compensation McClain suggested actually lines up with the value I felt Watson was worth. I mentioned four first-round picks, which two first-rounders and two starters equates to. In this scenario, however, the Texans are getting established players rather than rookies.
It'll be interesting to see how this situation unfolds, but it's clear the Texans aren't parting with Watson for anything less than a king's ransom. Whether that be what McClain mentioned or something closer to the draft haul I did seems negligible. What is important is only a few teams possess these trade assets and the Texans will have to make it work with them to get the return they're hoping for.