Latest College Football Leads
The Tennessee Job Isn't As Attractive as Volunteers Fans Think it Is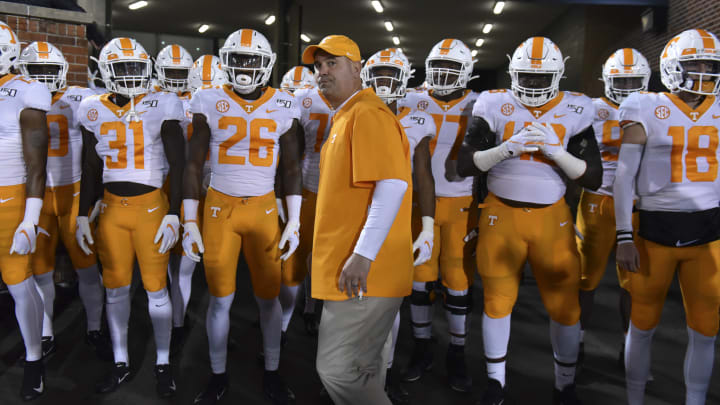 Jeremy Pruitt, Tennessee v Missouri / Ed Zurga/Getty Images
Tennessee fired head football coach Jeremy Pruitt on Monday after an internal investigation into potential recruiting violations. The NCAA is likely to go after the program, as transgressions by assistant coaches could rise to become Level I violations. The Volunteers are now looking for a new head coach, but while fans of the program believe it's an elite position, reality says otherwise.
Phillip Fulmer is retiring as athletic director, Pruitt is being canned for cause and the NCAA is likely set to drop a hammer on the program. None of that is good new for any potential head coaching candidates. And let's be real, Tennessee hasn't done much since Tee Martin led the school to a national title in 1998. In the 22 seasons since beating Florida State 23-16 in the BCS title game, the Volunteers have missed bowl eligibility eight times and their lone real postseason highlight is winning the Cotton Bowl following the 2004 season. Since 2007, they've only been to six bowl games and been left sitting home during bowl season seven times.
Yes, Tennessee has a massive, iconic stadium and a ton of fan support, but those same fans are quick to turn on anyone who doesn't show immediate success. Derek Dooley, Butch Jones and Pruitt all suffered from inflated expectations for the program, while Lane Kiffin wasn't there long enough for that to happen. Tennessee fans think the job is on par with those at Texas, Alabama, Clemson, Ohio State, Florida, Georgia etc., but it's basically a worse version of Michigan at this point. Much like the situation in Ann Arbor, fans are clinging to the past and not accepting the new reality of where the program sits.
In a good year, the Vols will finish third in their division. Florida and Georgia have clearly surpassed Tennessee in the SEC East and it would take a miracle for that to change. Then you look at the West and Alabama, LSU and Texas A&M are clearly superior programs. That ranks Tennessee sixth (at best) out of 14 SEC football programs. What top-tier coach would want to take a position where he's fighting against those odds?
Tennessee is not what it was in the late 90s when Fulmer was the head coach. Hell, the Vols haven't won an SEC title in 22 years, and haven't topped their division since 2007. There have been more headaches than successes over the past two decades in Knoxville.
A new head coach will have to routinely face those top-tier programs and, if he struggles, fans will call for his head. Hell, sometimes Vols fans won't even let coaches actually take the job before pushing them out. The mutiny over Greg Schiano's hiring led to Pruitt getting the job, which fans celebrated. How'd that all turn out?
Those that expect a good head coach could take over at Tennessee and regularly compete for national titles are simply not living in reality. It's nothing more than a decent Power 5 job at this point. Expectations from fans need to be reduced exponentially.