Girlfriend Kisses Boyfriend Who Visited Her at Work
Taylor Swift planted one on Travis Kelce.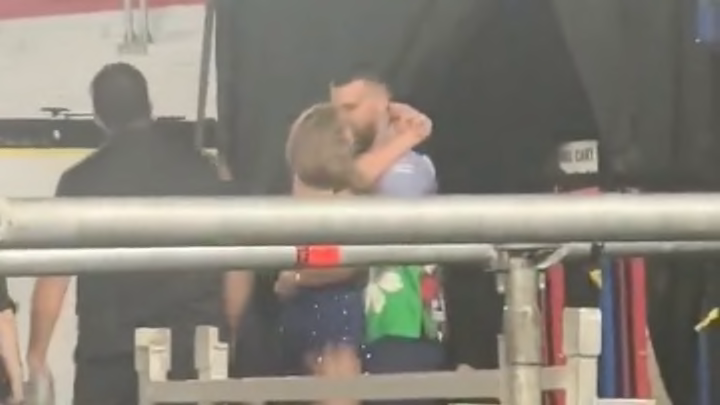 Taylor Swift performed in Buenos Aires last night. Travis Kelce was able to attend because the Kansas City Chiefs are on a bye. Sometimes things just work out perfectly. And it was a magical night, apparently, as Swift changed some lyrics in Karma to shout out her pass-catching beau.
If that wasn't enough, Swift even pressed her lips to Kelce's lips the moment she was off the clock. Right in public, for God and everyone else to see.
This is the type of stuff a certain portion of the public freaks out about and the rest of us are compassionate enough to pretend is a very big deal by putting it on a website to get clicks. More than anything, though, it's just nice. Nice that two people could find each other and establish such a connection before the holidays.
But wait. There's more. If you're wondering how Kelce reacted to Swift changing the words around to be about him, please know that there is footage.
People has the dutiful blow-by-blow of the event.
In footage posted by a concertgoer, Kelce watched Swift perform "Karma" while he stood next to her dad, Scott Kingsley Swift, in the VIP tent.
Swift then switched up the lyrics to the song, singing, "Karma is the guy on the Chiefs coming straight home to me," causing Kelce to flash a big grin as the "Blank Space" singer's dad also reacted with excitement, tapping the NFL player on the shoulder and lifting his arms up in celebration.
Kelce then put his hands over his head in shock as fans cheered, before raising his arms and bobbing them along to the song.
Everyone is experiencing this relationship in their own way. I would simply urge everyone to enjoy the courtship of a 33-year-old by a 34-year-old being explained in the digital version of passed notes in algebra. Pretty special moment in time.